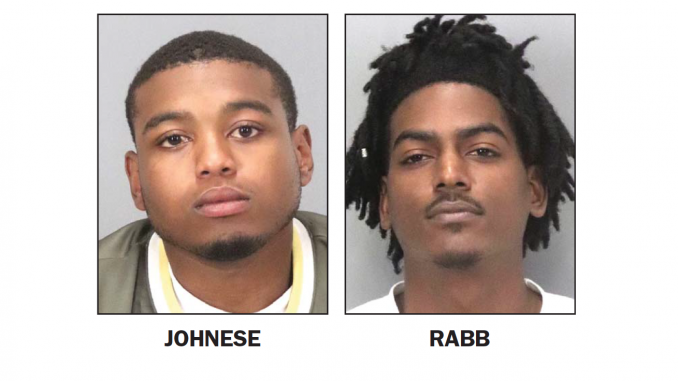 By the Daily Post staff
Palo Alto police say they stopped a car with two men inside who had two window punch devices and were able to connect them to auto burglaries at the Stanford Shopping Center.
Arrested were Kamron Malek Albert Johnese, 19, and Kevon Earl Rabb, 20, both of San Francisco.
Inside their car they found an item that had been stolen in an auto burglary at the shopping center, police said.
On Aug. 8 at 12:11 p.m., police spotted a vehicle traveling north on Alma Street that had been used in auto burglaries at the mall, according to a statement from police. Officers stopped the vehicle at Sand Hill Road and Vineyard Lane.
Officers found a window punch near the front driver seat and another one on the front passenger seat, police said.
A window punch is a tool commonly used by car burglars to shatter windows.
Police found an item from a July 25 auto burglary in the vehicle. In that case, the suspect broke the window of a vehicle and stole two backpacks containing electronics, police said. On July 30, the other suspect broke the window of another vehicle at the shopping center, entered it but didn't take any items.
Johnese is accused of the July 30 auto burglary and Rabb is connected to the one on July 25. They were booked into jail on charges of auto burglary (a felony) and possession of "burglary tools" (a misdemeanor).
Police are continuing to investigate the case. They say the pair may be connected to other car burglaries in surrounding cities.