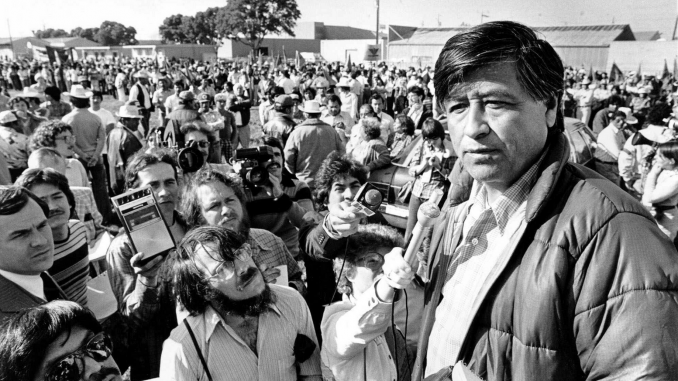 BY EMILY MIBACH
Daily Post Staff Writer
The Ravenswood City School Board wants to keep Cesar Chavez as a school name.
The name of the late labor leader and Latino rights activist would have been dropped when the district consolidated its middle schools onto the campus of Cesar Chavez Academy at 2450 Ralmar Ave.
After the consolidation, the Chavez name only applied to the K-5 portion of the school, and that part of the school was eliminated in June at the end of the school year. From that point onward, the campus was going to be called Ravenswood Middle School.
But the school district didn't alert the community to the fact that it was dropping the Chavez name.
City Councilman Ruben Abrica started raising questions about what would happen to the Chavez name in June when he saw a sign go up on the campus saying "Ravenswood Middle School" next to the one for Chavez Academy.
Split over re-naming process
Last night, trustees agreed that they didn't want to drop the Chavez name. But the five trustees differed on whether to simply rename the middle school after Chavez or go through the district's process of creating a committee to rename the school.
Trustees Sharifa Wilson, Stephanie Fitch and Tamara Sobomehin indicated they were in favor of creating a community committee to go through the process of renaming the middle school.
But trustees Marilena Goana and Ana Maria Pulido said they wanted the board to change the middle school's name to Cesar Chavez, since, as Goana put it, "the sign is already there."
Board president Sobomehin directed the board's lawyer to look into whether the board needs to go through the community committee process to rename the middle school site, since the campus has the name Chavez.
Issue expected to return
Wilson also suggested that since the district will be consolidating schools in the future, that the community committee can come up with other acceptable names for the reformed schools. Fitch enthusiastically agreed with the idea and said that way the school names can reflect the community in East Palo Alto.
The issue has already come up when the school bearing the name of late African American astronaut Ronald McNair was combined with Los Robles School at 2033 Pulgas Ave.
The board and community came up with a solution in that case — calling the combined school the Robles McNair Academy.
Only a fraction of the local news stories covered by the Daily Post appear on this website. To get all the local news, including many stories you can't find online, pick up the Post every morning at 1,000 Mid-Peninsula locations.