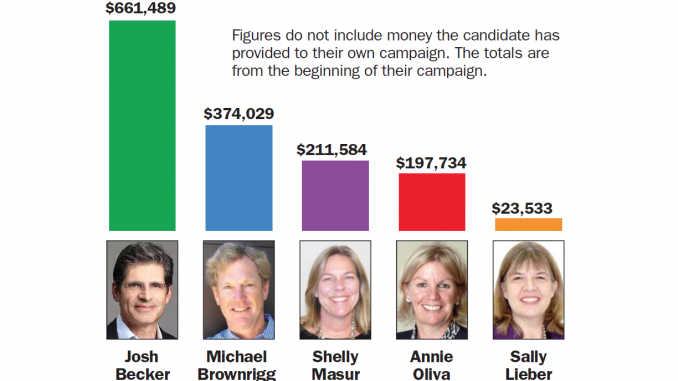 BY EMILY MIBACH
Daily Post Staff Writer
Menlo Park resident and entrepreneur Josh Becker has taken the lead in fundraising among the five candidates running for the state Senate seat Jerry Hill will vacate next year.
The five candidates have raised a combined $1.5 million in their quest for Senate District 13, which spans from South San Francisco to Sunnyvale.
Becker reported on financial documents that he has raised $661,489.
His donors include Facebook COO Sheryl Sandberg ($4,700), venture capitalist Reid Hoffman ($4,700), VC John Doerr and wife Ann ($9,400), the David Bohannon Organization ($4,700), Doll Capital Management owner David Chao ($4,700), Palo Alto School Board Member Jennifer DiBrienza ($250), former Palo Alto Councilman Larry Klein ($1,000), and San Mateo County Supervisor Warren Slocum ($1,000).
Becker has created nonprofit foundations to improve health care, education and the environment. He was also the CEO of Menlo Park-based legal analytics firm Lex Machina.
Brownrigg
In second when it comes to fundraising is Burlingame Councilman Michael Brownrigg. Not counting a $50,000 donation to himself, he's raised $374,029.
Brownrigg's donors include auto dealer Kent Putnam ($4,700), San Francisco resident Craig Bicknell ($9,400), Novell Management executive George Chen ($3,000), Burlingame developer Richard Dewey ($4,700), and fellow Burlingame council members Emily Beach ($100), Ann Keighran ($500) and Donna Colson ($4,700). He's also received money from Belmont councilman Doug Kim ($1,000) and San Carlos Mayor Mark Olbert ($500).
Masur
Redwood City Councilwoman Shelly Masur is in third, raising $211,584.
Masur was elected to council in 2015. She's the CEO of Californians Dedicated to Education Foundation, a nonprofit that helps fund programs at public schools. Prior to joining the council, Masur was on the Redwood City school board for 10 years.
Masur's donors are mostly from local politicians and unions.
Her donors include the Plumbers Steamfitters and Refrigeration Fitters Local 393 ($5,000), Northern California Carpenters Regional Council ($9,300), Sheet Metal Worker's International Association ($4,700), San Mateo County Sheriff Carlos Bolanos ($750), Association of California School Administrators union ($5,500), Santa Clara County Supervisor Susan Ellenberg ($1,000), San Mateo County Arts Commissioner Harini Krishnan ($1,050) and San Carlos Councilman Ron Collins ($350).
Olvia
Millbrae Councilwoman Annie Oliva has raised $197,734 even though she's only been in the race for nine weeks.
Oliva, a lifelong Peninsula resident, has been on Millbrae council since 2013 and served as mayor in 2016. She is also a Realtor who is part owner of her family's real estate business, San Bruno-based O'Marshall Inc.
Many of Oliva's donors are Realtors and small business owners.
Donors include Realtor Thomas Thompson ($2,500), Realtor Pam Ling ($1,250), Burlingame business owner William Gilmartin ($4,700), San Bruno resident Paula Marshall ($4,700), real estate investor Greg Galli ($1,000), Millbrae Human Resources Manager Kimberly Kuang ($4,700), Marsetti Inc. ($4,637), Artichoke Joe's owner Dennis Sammut ($3,000), Pacifica Realtor Suzan Wallace ($1,000) and San Mateo Realtor Patricia Dwyer ($1,000).
Lieber
Former Assemblywoman Sally Lieber has raised $23,533, not counting the $200,000 she's donated to her own campaign.
Lieber ran against Hill in 2012 and told the Post last May that it's always been her plan to run again. She's a former Mountain View mayor and assemblywoman.
Lieber's donors include many local progressives and residents of the district.
Her donors include Palo Alto resident Prameela Bartholomeusz ($250), Belmont resident Marshall Dinowitz ($500), San Mateo County Housing Leadership Council Program Manager Joshua Hugg ($100), Redwood City Councilwoman Diana Reddy ($200), San Mateo County Harbor District Commissioner Nancy Reyering ($700), former Mountain View Mayor Lenny Siegel ($100), Pacifica resident Dan Stegink ($250), Redwood City resident Christina Umhofer ($300) and Palo Alto resident Robyn Reiss ($1,100).
The five candidates, all Democrats, will compete in the March 3 primary. The two top vote-getters will go on to vie in the November 2020 general election.