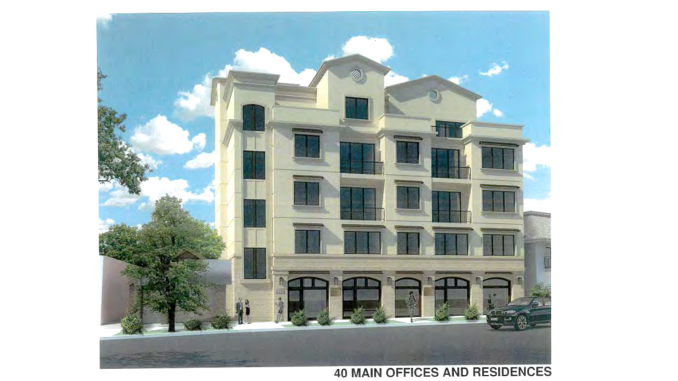 This story first appeared in Friday's print edition of the Daily Post.
BY EMILY MIBACH
Daily Post Staff Writer
The Los Altos City Council will meet behind closed doors on Tuesday (July 30) to discuss a lawsuit from a pro-housing group that wants to see the city approve a project proposed at 40 Main St.
The lawsuit was filed on June 12 by the California Renters Legal Advocacy and Education Fund, which often sues cities when they have rejected a project that is in compliance with state law.
About the project
Property owners Ted and Jerry Sorensen proposed a 66-foot building at 40 Main St., with first-floor office space and 15 apartments on the second through fifth floors, according to project plans. Two of the apartments would be subsidized.
The Sorensens also proposed building an underground parking garage with 18 spaces. The Sorensens pursued a "streamlined" permit under Senate Bill 35, a 2017 law that aims to encourage housing development by fast-tracking the permitting process for developers who meet certain requirements.
The Sorensens and the California Renters Legal group believe that the project fits under the SB35 requirements. But at an April 9 meeting, the council denied the Sorensens' request for a streamlined process.
Density bonus
SB35 grants developers a 35% density increase, but the Sorensens' proposal includes an 87.5% density bonus, according to a staff report from the April 9 meeting.
At that meeting, there was also disagreement about whether the office-to-residential ratio fit under SB35. The law requires that the proposed building be at least two-thirds, or 67%, residential. The city said that 54% of the 42,276-square-foot building's square footage would be residential.
Support from state
The Sorensens' attorney, Daniel Golub of the law firm Holland and Knight, said that the building would meet the two-thirds requirement if the residential parking garage was included.
Golub said the state Department of Housing and Community Development agreed with that interpretation in a letter sent to him.
Prior to the April 9 meeting, the city raised concerns about the lack of parking for the project. But the lawsuit states that the Sorensens provided a letter from the Department of Housing and Community Development saying that raising concerns about parking, without citing city code, was an insufficient reason to reject the project.
Project in the works since 2007
The project has been in the works since 2007. It was previously proposed as a three-story office building with about 20 parking spaces in the basement. There were also proposals for one- and two-story alternatives.
In January 2018, a Santa Clara County Superior Court judge ordered the Sorensens to pay almost $2.7 million back to investors for negligently misrepresenting the project to investors.
The Sorensens told investors that the building could make between $8.9 million and $9.4 million and overstated how large the city would permit the building to be.