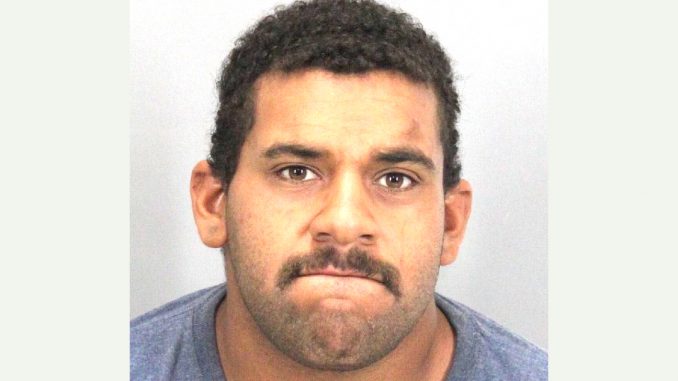 BY EMILY MIBACH
Daily Post Staff Writer
The San Mateo County District Attorney on Tuesday (July 23) cleared a parole officer of any criminal wrongdoing for shooting his parolee in Redwood City when he ran toward the officer holding a dumbbell above his head.
In fact, the parolee admitted he should have been shot, according to a report from District Attorney Steve Wagstaffe.
"I would have shot me too," Aaron Womack told investigators.
The shooting took place around 1:30 a.m. on April 23 in a garage at 540 Price Ave. in Redwood City, but the California Department of Corrections and Rehabilitation kept the incident under wraps. The shooting only became known when the parolee was charged by Wagstaffe on May 2.
Parole Officer Marvin Abad has been Womack's parole officer for about two years. Womack had been living in a homeless camp in the parking garage of the parole office's building. Abad had seen Womack there before, often having to calm him down while he was yelling about something.
Parolee smashes glass door
Around 1:30 a.m. on April 23, Abad was leaving the office and heard a banging noise. Womack was striking a dumbbell against the building and smashed a glass door with it, Wagstaffe said.
Abad asked Womack what he was doing and the parolee asked the officer where he had come from. Womack did not seem to recognize Abad, according to Wagstaffe's letter to Parole Supervisor Gregory Weber.
Abad tried to calm Womack down and reminded him that he is his parole officer. But Womack raised the dumbbell to shoulder height as if he was preparing to punch something, according to Wagstaffe. "Where did you come from?" Womack asked again.
Man shot, zapped with Taser
Abad, telling Womack to stop, backed up near the corner of the garage and pulled out his gun. The parolee was five to seven feet away from the officer, who feared for his safety, knowing Abad's criminal history.
"Abad was hoping that Womack would 'snap out of it' but realized that this was not occurring. Abad fired twice from the hip, when Womack was only a few steps away, because at this point, he felt he had no other choice," Wagstaffe wrote in his letter to Weber.
Womack was hit in the leg and groin but ran away. Redwood City police officers had to use Tasers on Womack four times to get him on the ground to be arrested.
Sheriff's deputies who also responded had to help restrain Womack, Wagstaffe said.
Sheriff's Sgt. Alfredo Gudino broke his ankle while restraining Womack, according to Wagstaffe's letter. Womack was taken to a hospital, where he remained until May 1. On May 2, Womack appeared in court and was charged with assault with a deadly weapon and two misdemeanors — resisting arrest and vandalism.
Womack told the DA's investigators that he does not blame Abad for shooting him. "I would have shot me too … too close. I was too close to him," Womack told investigators.
Womack is in jail in lieu of $35,000 bail and will appear in court on July 30 for a pretrial conference.