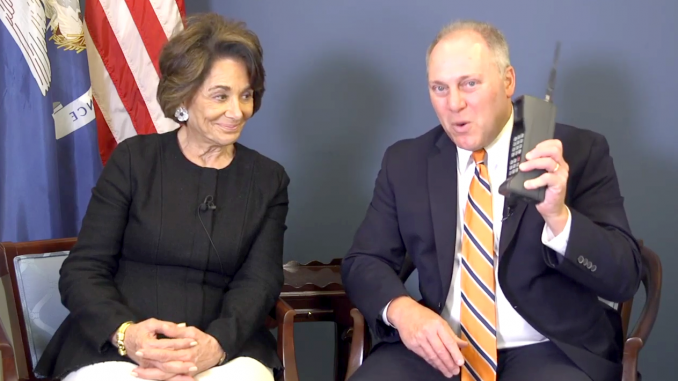 BY DAVE PRICE
Daily Post Editor
Rep. Anna Eshoo, D-Palo Alto, announced today that she is co-sponsoring a bill with a Republican, Rep. Steve Scalise, to end cable and satellite TV blackouts of stations and networks demanding higher fees.
The announcement is timely since customers of AT&T's U-verse and DirecTV are in the midst of a blackout of KRON Channel 4 and CBS stations such as KPIX Channel 5.
In both cases, the broadcasters and AT&T have been unable to reach an agreement on the fee the cable and satellite company must pay to carry the channels. Under current law, if the two sides don't agree on the fees, the broadcaster can withhold programming from the cable or satellite system.
"Our bill very importantly and specifically protects consumers and it puts an end to broadcast blackouts once and for all," Eshoo said in a YouTube video announcing the bill.
In the video, she is sitting next to co-sponsor, Steve Scalise from Louisiana, the Republican House whip who was the Congressman that was shot by a left-wing activist during a 2017 practice for the congressional baseball team in Virginia.
Their bill seeks to update the 1992 law that currently regulates how broadcasters negotiate fees with cable and satellite companies.
In the video, Scalise holds up a brick cellphone from 1992 and reminds viewers that the laws were last updated when people were using big phones like the one he was holding.
"People elect us to work together to get things done," Scalise said. "Updating our outdated 1992 video laws is something really important that a lot of families across this country will benefit from."
Eshoo pointed out that the rising fees demanded by broadcasters are being passed along by cable and satellite companies to their customers.
"These outdated regulations end up hurting consumers in their wallets. They really take a hit there," Eshoo said. "Last year, over $10 billion was paid by cable and satellite companies to air broadcast programming, and it's consumers that end up paying these fees. I think that's pretty unfair."
"And these outdated laws aren't just bad for the market, they're hurting consumers," she said. "Now when blackouts take place, consumers are held hostage during the disputes between the broadcaster and the cable company. In 2017, there were 213 blackouts. That's more than double the number five years prior to that."
Their bill, called the Modern Television Act of 2019, requires cable and satellite companies to continue carrying a channel for 60 days if negotiations reach an impasse. The bill then allows the FCC to put the two sides into baseball-style binding arbitration with a neutral arbitrator.
The bill also ends federal, state and local regulation of cable rates. And it allows broadcasters and cable/satellite companies to privately negotiate fees for carrying channels, without certain federal restrictions from the 1992 bill.
"With the proper light regulatory touch, channel blackouts can become a thing of the past," said David Williams, president of the Taxpayers Protection Alliance.
"Repealing these archaic laws and regulations is the key to unlocking a free market that innovates, promotes competition, lowers costs for consumers, and reduces disruptive blackouts," the National Taxpayers Union said in a statement.
The National Association of Broadcasters, the lobbying group for TV stations and networks, opposes the bill, saying it would "undermine America's world leadership in free and local broadcasting."
The fees represent a sizable amount of the revenue TV stations and networks generate. At one time, advertising was a broadcaster's sole source of revenue, but as ratings have dropped and ad revenues have fallen accordingly, broadcasters have relied increasingly on the fees they get from cable and satellite systems.