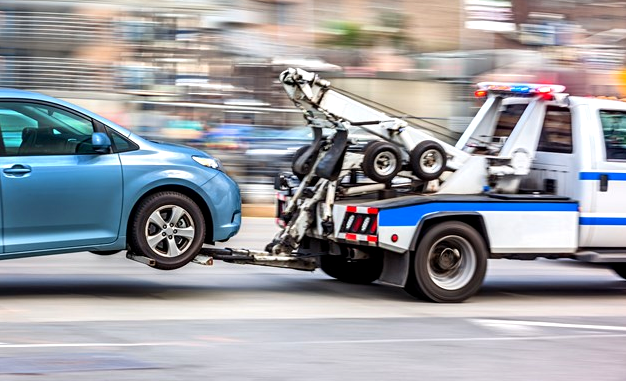 BY ELAINE GOODMAN
Daily Post Correspondent
A number of California cities, including Redwood City, are protesting a bill in the state Legislature that would prohibit the towing of cars with five or more unpaid parking tickets and make cities wait longer to tow vehicles that haven't been moved in three days.
Assembly Bill 516, by Assembly members David Chiu, D-San Francisco, and Miguel Santiago, D-Los Angeles, is intended to protect low-income residents from the impacts of having their cars towed.
But the city of Redwood City, as well as the League of California Cities, oppose the bill, saying it would reward people who don't pay their parking tickets.
Eliminating the threat of towing for unpaid parking tickets "will exacerbate parking scarcity by creating an environment vulnerable for exploitation," Redwood City Mayor Ian Bain said in a letter to state lawmakers. Redwood City's City Council last week approved sending the letter to Sen. Jerry Hill and Assembly member Kevin Mullin, whose districts include Redwood City.
No boots
In addition to the ban on towing cars with five or more unpaid parking tickets, AB516 also wouldn't allow cars with unpaid tickets to be immobilized with a "boot."
And in cases where towing is allowed, impounded cars could no longer be sold to cover towing and storage costs.
Another provision of AB516 is that cars parked in one place for more than 72 hours in violation of city code could no longer be towed immediately. Rather, a notice would have to be placed on the car for 10 business days, stating the deadline for moving the vehicle. If the car were still there after the 10 days, it could then be towed.
More vehicles left on the road over 72 hours
Bain, the Redwood City mayor, said in his letter that reports of vehicles left on the road for more than 72 hours have increased 10-fold over the past decade, to more than 5,000 complaints per year in 2017 — reflecting the severe parking crunch in neighborhoods.
Enforcement of the 72-hour parking limit is typically prompted by a complaint from a business or resident, he said.
"Compliance costs nothing and can simply involve moving a vehicle to a more acceptable location to avoid a tow," Bain wrote.
The Western Center on Law & Poverty is a sponsor of AB516, and much of the bill's rationale comes from a report by WCLP and other groups titled "Towed Into Debt."
More than three-quarters of California residents need a car to get to work or use the car as part of their job, according to the text of AB516.
"For many Californians, their vehicle is their only shelter, their only way to get needed medical care or their most valuable asset," the legislation states. "There is no public safety purpose when a local government uses towing as a costly and draconian method to collect small amounts of debt, and this sanction has a disproportionate impact on lower income families and people of color."
AB516 has been amended since its introduction. A previous version called for a ban on towing vehicles parked in one place for more than 72 hours; that was changed to the proposed requirement for a 10-day notice before a car is towed.
An earlier version of AB516 also would have prohibited towing a car with registration that has been expired for six months or more. A new version of the bill keeps current law in place, allowing cars to be towed for expired registration.
Enforcement of parking rules is challenging
Despite the amendments, the League of California Cities is still opposed to AB516.
"Residential neighborhoods and major business corridors already struggle with limited parking spaces and will continue to struggle as communities densify, making parking enforcement much more essential," the League said in a letter to lawmakers.
The League also noted that payment plans are offered to low-income people with unpaid parking tickets, with payments as low as $5 a month. A car is towed only if the payment plan has been ignored, the League said.
The Assembly passed AB516 on May 13 on a 49-11 vote. Mullin, who represents Redwood City, was one of 20 Assembly members who did not vote on it.
In the Senate, the Transportation Committee voted 9-2 on Tuesday to approve the bill. The Senate Public Safety Committee is scheduled to consider the bill on July 9.