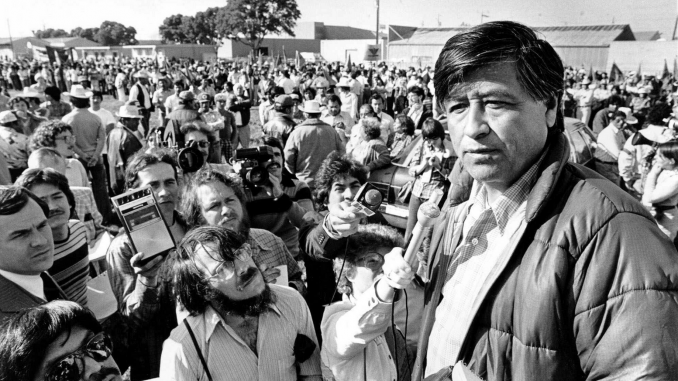 BY EMILY MIBACH
Daily Post Staff Writer
An East Palo Alto councilman is working to ensure that labor leader Cesar Chavez's name remains on an East Palo Alto school.
The Ravenswood City School District has merged Cesar Chavez Academy with its new middle school at 2450 Ralmar Ave. This means most of the Ravenswood School District's students will attend middle school at Cesar Chavez Academy.
However, a sign has been posted next to Cesar Chavez Academy's sign reading "Ravenswood Middle School."
The posting of the sign caused Abrica and others to wonder if the name of the school would be changed.
Abrica compared this situation to if the city suddenly posted a sign saying "Ravenswood Recreational Park" next to the Martin Luther King park sign.
He pointed out that if the new sign stayed there for a while, residents would wonder if the city is in the process of removing King's name from the park.
"Eliminating the name of Martin Luther King Jr. from a park or eliminating Cesar Chavez from a school would be a major insult to the community. I would like to believe that the respective authorities would not even consider doing that without extensive community consultation," Abrica wrote to the board.
Nothing decided yet
Abrica asked the board if a decision had been made to rename the school to Ravenswood Middle School. Based on comments made by board member Ana Maria Pulido on Thursday, no formal name was decided on for the school.
Pulido agreed at Thursday's board meeting that it's important to keep Chavez's name attached to the school, and pointed out that the community worked hard to keep astronaut Ronald McNair's name attached to Robles McNair Academy at 2033 Pulgas Ave. McNair was the second African American to go to space and died in the 1986 Challenger explosion.
Pulido also mentioned that there is no other school in the city that is named after a major Latino figure.
Pulido said on Thursday that she wants the board to discuss the topic again and decide what ought to be done regarding the name of the middle school.
In his letter, Abrica said in 1993, soon after the passing of Chavez, members of his family attended the official naming ceremony of the school. Ravenswood City School District became one of the first districts in the country to name a school in Chavez's honor, Abrica said.