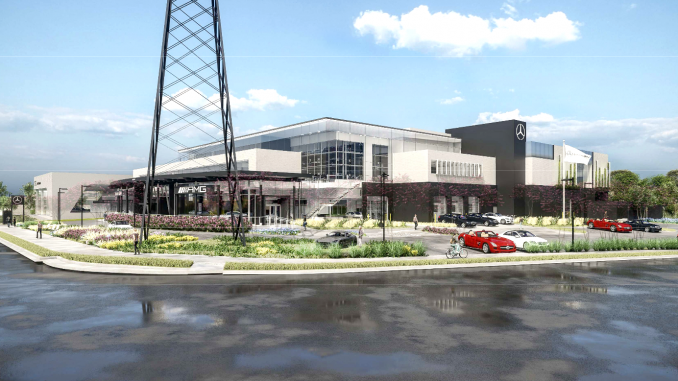 By the Daily Post staff
Palo Alto City Council voted Monday (June 24) to usher ahead a 106,000-square-foot Audi and Mercedes-Benz dealership at 1700-1730 Embarcadero Road, where Ming's Chinese Restaurant used to be located.
The project will, however, have to return to the Architectural Review Board, which approved the project's size but recommended more muted charcoal or brown colors, more trees and a better transition between the sidewalk, bike path and intersection.
The Holman Automotive Group, based in New Jersey, is planning to demolish the restaurant building along with the service building of the Audi dealership that is currently there to make room for the new two-story Mercedes dealership and two-story Audi service building with roof deck parking and a detached car wash.
A number of slow-growth activists cautioned council about the project, with some pointing to inaccuracies in city documents. Councilwoman Lydia Kou, who is on the slow-growth side of council, cast the sole dissenting vote against the project.
Planning Director Jonathan Lait admitted that he misstated the square footage on a public report, but said the correct square footage was studied in an environmental impact report.
Several speakers raised concerns about the effects of the project on the wildlife in the Baylands, such as removing bird habitat and using lights at night.
Councilwoman Liz Kniss objected to that characterization of the site location.
"This is an industrial area. This is not a gateway to the Baylands," Kniss said.
Only a fraction of the local news stories covered by the Daily Post appear on this website. To get all the local news, including many stories you can't find online, pick up the Post every morning at 1,000 Mid-Peninsula locations.