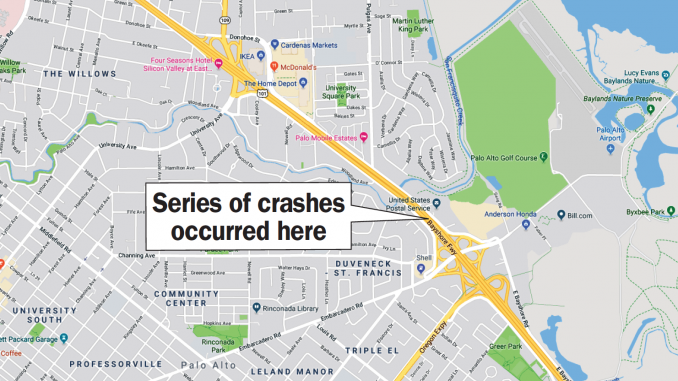 One person is dead, five people have been hospitalized and one driver was arrested on suspicion of felony DUI following a series of accidents that began with a wrong-way driver on Highway 101 in Palo Alto early this morning (June 16).
The first collision occurred at about 2:08 a.m. when a wrong-way driver on northbound 101 seriously injured another motorist in a head-on collision between the Embarcadero Road and University Avenue exits, CHP Officer Dave Morey said.
The wrong-way vehicle burst into flames and the driver was killed. The driver of the other car suffered a broken leg and lacerations. He was taken to Stanford Hospital.
The CHP is investigating whether drugs or alcohol were factors in that collision.
At about 2:30 a.m., two separate collisions occurred on the southbound side of the freeway, Morey said, both of which are suspected to have occurred as the motorists were looking at the collision scene on the northbound side.
In the first collision, a Honda Civic rear-ended a BMW on southbound 101 approximately 75 yards south of the northbound collision scene.
Sometime not long after that, a woman in the BMW that was hit from behind walked into the southbound lanes and was struck by another vehicle, a blue Nissan, Morey said.
The driver of the blue Nissan that hit her has been arrested on suspicion of felony DUI as drugs or alcohol are believed to be factors in the collision. The suspect's name hasn't been released.
The three other people in the Honda Civic, who were hit when they attempted to get out of their vehicle, were also taken to Stanford Hospital.
All southbound lanes were cleared just before 5 a.m. and the northbound lanes were reopened at 6:40 a.m.
— Staff and wire reports