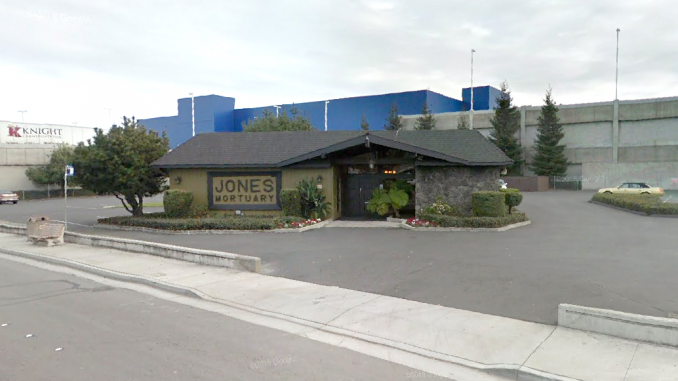 BY EMILY MIBACH
Daily Post Staff Writer
Developers have submitted proposals for 27 developments in East Palo Alto including one that would replace Jones Mortuary, though a representative of the funeral home denied last night that there were any plans for the property near the Highway 101-University Avenue intersection.
"We've been here for 40-plus years serving the community. We wouldn't sell out for pennies" said Michael Mackie.
He said the idea that mortuary would be redeveloped is just "rumors and vicious lies."
Mackie said that when he and others at the mortuary hear about the property being redeveloped, they "just bust out laughing."
But on the list of 27 proposed developments on the city of East Palo Alto's website is a 200,000-square-foot building between eight and 14 stories at 660 Donohoe St., the address of the mortuary.
No further information about the would-be developer was available yesterday (June 12).
The list of 27 projects indicates the city has been deluged with development proposals since a building moratorium was lifted last year. The city imposed the moratorium because of a water shortage, which has been alleviated after the city bought a water allocation from Mountain View and was given one by Palo Alto.
If all 27 projects were built, the city would gain 2 million square feet of office space and nearly 800 homes.
By far the largest commercial project is a development at 2020 Bay Road, nearly Cooley Landing, where New York developer Bill Uhrig wants to build five office towers that are eight stories each. It would be 1.4 million square feet, slightly less than the 1.7-million-square-feet of office space for the Willow Village project that Facebook wants to build in Menlo Park.
When Uhrig was asked about the traffic the office complex would create, he suggested the city could start charging tolls to enter and leave East Palo Alto.
The largest housing project on the list of 27 is the redevelopment of the Woodland Park apartments at Euclid and Manhattan avenues. Developer Peter Pau of Sand Hill Property Co. wants to tear down 160 apartments and replace them with 605 apartments in buildings between four and eight stories tall.
The list includes a proposed development at the corner of University Avenue and Runnymede St. That project will comprise of 32 homes and 2,186 square feet of retail.
Another mixed use project is for 21 homes and 1,000-square-feet of retail at 2212 University.
Other projects include:
• An eight-story, 220,000-square-foot office project at 2111 University, the sister project to the Amazon building across the street.
• The school proposed by Mark Zuckerberg's wife, Dr. Priscilla Chan, for 1200 Weeks St. Some 736 teachers and children will be at the school every day.
• At University Circle, 180,000-square-feet of office space is proposed near the Four Seasons Hotel.
• At 1650 Bay Road, a 160-room hotel is proposed where Pal Market currently located.
• Nonprofit Job Train wants to build a 100,000-square-foot office building at 2519 Pulgas Ave.
• Ten condos are proposed 717 Donohoe St., between Cooley Avenue and the Ravenswood 101 Shopping Center.
• A three-story, 37-apartment complex is proposed for 1207 Runnymede.
Already approved are 91 renovated and new apartments at the Light Tree apartment complex, 1805 East Bayshore Road.
This list did not include commercial projects under 60,000 square-feet and housing projects under 10 homes.
Want more local news? Only a fraction of the local news stories covered by the Daily Post appear on this website. To get all the local news, including many stories you can't find online, get into the habit of picking up the Post every morning at 1,000 Mid-Peninsula locations.