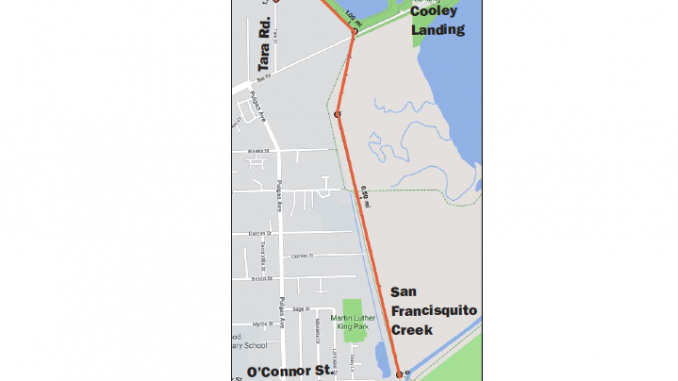 BY EMILY MIBACH
Daily Post Staff Writer
East Palo Alto has received a $17 million grant from the state's office of emergency services for a bayside levee system to protect 1,500 buildings from flooding, the city announced Wednesday (June 5).
This grant covers 75% of the cost to design, plan and construct the project, which will span from the end of O'Connor Street, near San Francisquito Creek, to the northern end of Tara Road. The levees will protect 1,500 buildings in the Garden and Weeks neighborhoods of East Palo Alto, according to the city.
About half of the city is in an area susceptible to flooding known as a Federal Emergency Management Agency floodplain. Once this project is completed, city officials anticipate that flood insurance for residents will go down.
The entire project is slated to cost $23.1 million.
The remaining $5.5 million will come from the city and the San Francisquito Creek Joint Powers Authority, which is working with East Palo Alto on this project.
Last year, the creek authority completed levees extending from the Bay, near where this project will begin at O'Connor, to Highway 101.
Those levees will protect 1,000 homes in East Palo Alto and Palo Alto from flooding.
It will now take the city and creek JPA about a year and a half to plan and build the levees, according to the city. Before construction starts, they will conduct an environmental review, complete the project's design and get the needed permits.