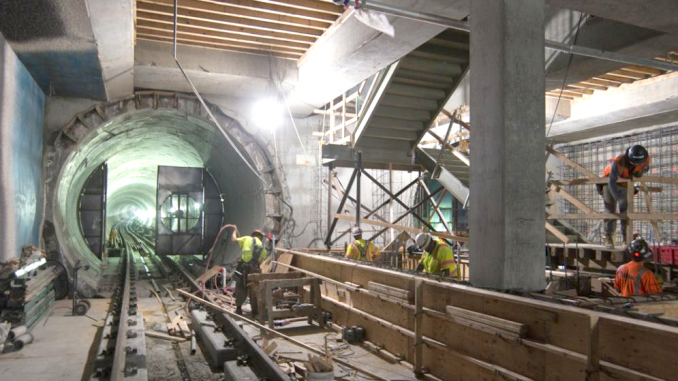 BY EMILY MIBACH
Daily Post Staff Writer
A Stanford professor who is an expert on train tunnels is throwing cold water on the idea that Menlo Park might be able to bury the Caltrain tracks underground.
Michael Bennon, managing director of the Stanford Global Projects Center, told the City Council on Tuesday the idea isn't feasible unless the city partners with a neighboring city — Atherton or Palo Alto — and that Menlo Park has a way to raise the money for a tunnel. To raise a sufficient amount of money, the city would have to permit development above the tracks, and use fees from that construction to pay for the tunnel.
Complete Streets Commissioner Adina Levin said that to generate that much money, the city would have to allow about a million square feet of office space and thousands of housing units — essentially a project the size of Facebook's Willow Village.
Bennon agreed with Levin's assessment. He also pointed out that not having partnerships with other cities could make the project harder to finance and harder to complete from an engineering standpoint. He suggested that cities, Caltrain and perhaps the counties and state, create a joint powers authority or special district to pay for the tunnel.
However, creating such an agency would also slow things down.
"This would be a major, major undertaking," Bennon said. "This would be an extremely expensive project."
Bennon said that Palo Alto's previous estimates for a four-mile tunnel — between $2.5 billion and $3.8 billion — sounded correct.
Both Palo Alto and Menlo Park have been separately considering putting the Caltrain in a tunnel. But on May 13, the Palo Alto City Council voted to stop looking at doing a city-wide tunneling project.
A Palo Alto citywide tunnel would have begun 500 feet north of Churchill Avenue and extended south to Mountain View. The tunnel option still under consideration would run from Oregon to the city limits.
Menlo Park earlier this year reversed the previous council's decision and wants to have three train bridges built at Ravenswood, Oak Grove and Glenwood avenues.
Building the crossings at all three avenues will run a total of between $280 million and $380 million for the three locations combined.
Last year, then-Mayor Peter Ohtaki sent letters to the mayors of Palo Alto, Atherton, Mountain View, Redwood City and Sunnyvale to see if they were interested in teaming up to tunnel or trench the train tracks.
Only Redwood City and Atherton responded, saying they would be interested in talking, but both cities were worried about the price tag of the tunnel.
Another problem with not having other cities on board is that the tunnel would have to be shallow enough that it does not create a slope that the train can't handle, but also deep enough so that it can go below San Francisquito Creek.