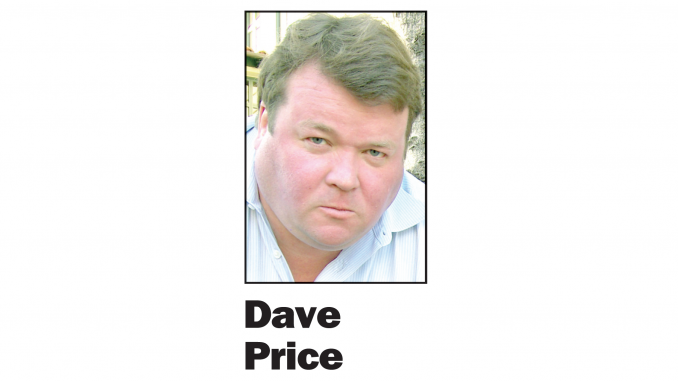 OPINION
BY DAVE PRICE
Daily Post Editor
"Those who cannot remember the past are condemned to repeat it. — George Santayana
This month 17 years ago, the leaders of Menlo Park realized they had made a terrible mistake. A few months earlier, they had approved placing concrete islands and curb extensions (called "bulb outs") up and down Santa Cruz Avenue west of downtown in order to add bike lanes.
The obstructions were sold to the public by city employees and bicycle activists as "safety features" designed to provide "better defined and wider bike lanes" that would slow traffic.
Residents were irate. The "safety features" had narrowed the lanes of traffic, creating an obstacle course for drivers.
Some people said the purpose was "traffic calming," but it was anything but calming.
Ripping out the concrete
It all came to a head at a May 28, 2002, standing-room-only City Council meeting, according to a report from the Daily News at the time. Fifty people handed in cards to the clerk in order to speak to council. Most demanded that the city rip out the new features that had been cemented to the street. "When a few said they liked the current plans, those people were booed," the Daily News said.
Council voted 3-2 to rip out most of the bulb outs, new crosswalks and center medians. Their motion also called for restoring the width of all travel lanes to a minimum of 10 feet. The two council members in the minority, Paul Collacchi and Nicholas Jellins, opposed the motion because they felt all the new "road features" should be ripped up, not just a few of them.
This history is relevant to today
I bring this up this embarrassing episode from 2002 because I see history repeating itself in Menlo Park.
A council-appointed committee, the Complete Streets Commission, voted April 10 to recommend eliminating parking along parts of Santa Cruz and Middle avenues in order to add bike lanes. A total of 135 parking spaces would be replaced with new or improved bike lanes in order to increase safety for children bicycling to and from school.
On Middle Avenue, the project would run from Olive Street to San Mateo Drive, eliminating 118 parking spaces. On Santa Cruz, the work would take place from Hillview Drive to Avy Avenue, eliminating 17 spaces.
The recommendation requires City Council approval.
The 'safety' argument
Even though the Post, in reporting the commission's decision, mentioned the argument about safety, Jen Wolosin, founder and chair of Parents for Safe Routes in Menlo Park, fired off a letter to the editor excoriating the Post for not emphasizing safety enough in the story.
Safety, or the illusion of safety, is how you sell these things. That's what they did in 2002.
And these safety arguments are typicaly made with anecdotes not data.
That's how you turn the issue of managing publicly-owned streets into a morality drama. The people who advocate for bike lanes for children get to claim the high moral ground over people who want to simply park in front of their house.
Wolosin also pointed out that the parking to be eliminated was "underutilized." So that's the argument for eliminating a parking space in front of a person's home?
Where will these people park?
More recent history
When Menlo Park City Council eliminated 89 parking spaces on Oak Grove Avenue in 2017 to create more bike lanes, the neighborhood descended into "chaos," according to Round Table Pizza owner Bob Larson. He said people who had lost their parking began to flood his parking lot at 1225 El Camino. In fact, so many people were using his lot that he couldn't park there on some days.
The Oak Grove Avenue bike lane plan was also done in the name of safety. But the problem with the "safety" argument is that new plan put kids on bikes in the bull's-eye of earth-movers and dump trucks building the massive Greenheart project at 1300 El Camino.
Mayor Ray Mueller voted against the Oak Grove bike lanes, saying the project wouldn't increase safety. "I'm pretty nervous about it," he said at a Aug. 2, 2017, council meeting.
It was an example of how the advocates were using a "safety" argument even though the project wasn't really safe.
You need to pay attention
It's easy to blame the City Council for mistakes like these, but it's really the fault of residents who don't pay attention to proposals as they move through the city government, like the one for Santa Cruz and Middle avenues.
A May 17, 2002, story in the Daily News said: "Though the project had been widely reported when council first gave it the green light, many say they didn't have a clue what was going on until construction crews began marking up the street. Had they known before hand, critics say they would have voiced the dissatisfaction sooner."
So the time to speak up is now. Let City Council know what you think.
Editor Dave Price's column appears on Mondays. His email address is price@padailypost.com.