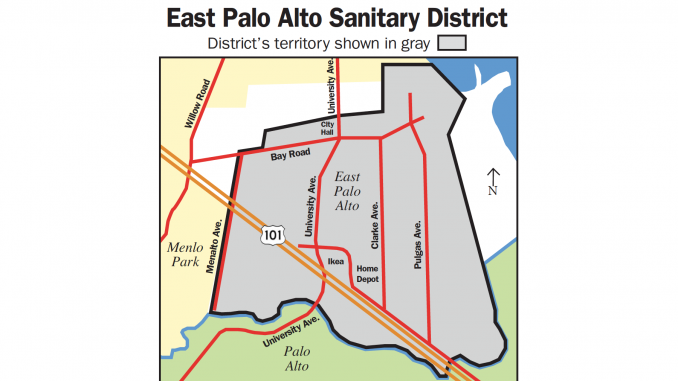 Editor's note: The trial in this case was originally set for March 25 but has been rescheduled for July 9. The version of the story below has been updated to reflect that change.
BY EMILY MIBACH
Daily Post Staff Writer
A jury trial is scheduled to begin July 9 over allegations by two former East Palo Alto Sanitary District employees that the agency's general manager misused public funds, destroyed recordings of board meetings, violated open-meeting laws and falsified time sheets.
Rodney Ryce and Stephanie Griffin claim they were fired in retaliation for questioning spending by interim manager Karen Maxey.
But the district says the two were fired because they weren't needed any longer, and their dismissal would save $207,999 annually. Ryce, the HR manager, made $115,866 a year while Griffin got $73,649, according to Transparent California.
Ryce and Griffin maintain that because they asked questions about Maxey's time sheets and expenses, she wanted to get rid of them.
Maxey was a district employee for some 30 years, and returned to the district after retiring with a CalPERS pension.
Maxey claimed to work an average of 4.6 days a week, but Ryce said she hardly ever worked on Fridays. "Yet her billing statements claim payment for numerous Fridays when she was not there," Ryce's lawsuit says.
Moreover, she wouldn't have been allowed to collect her pension if she worked more than 960 hours a year (120 days).
Among the expenses Griffith questioned was Maxey's purchase of a $2,436 laptop that was for "personal use," and frequent gas fill-ups at $99 each, according to the suit. On one day in March 2016, Maxey charged the district $219 for Waiters on Wheels and $65 for the Cheesecake Factory in Palo Alto, the suit said.
Griffith, an accounting assistant at the district for 10 years, said Maxey harassed her when she attempted to get receipts for purchases she charged to the district.
Board member shocked by firings
Board member Dennis Scherzer, who, along with board member Goro Mitchell, voted against the reorganization that cost Griffin and Ryce their jobs, said during a deposition that the move to get rid of both employees "shocked him."
"They were two really good employees. (There was) no need to let them go," Scherzer said.
Scherzer pointed out that in June 2016, the board approved its budget with no problem, but in September 2016 all of a sudden there is a financial problem that required the firing of Ryce and Griffin.
"And there is no explanation of how we got from Point A to Point B. There wasn't any financial consultant or expert that said 'You have a financial problem, you need to reduce your expenses," Scherzer said.
Scherzer also said that the district's central office performance levels have decreased after the firing of Griffin and Ryce.
Brown Act violations alleged
Griffin and Ryce claim that three district board members — Glenda Savage, Betsy Yanez and Joan Skyes-Miessi — violated the state's open-meetings act by privately planning the reorganization that resulted in their firings.
Under the law, known as the Brown Act, three members of a five-member board cannot discuss district business together outside of a formal meeting that has been advertised in advance.
Griffin and Ryce claim the three conspired together to push through the reorganization without much public discussion, violating the law.
The plaintiffs also claim that Maxey destroyed recordings of the committee that Skyes-Miessi and Savage were on that devised the reorganization proposal.
Griffin and Ryce also claim that Maxey's hiring as an interim manager was set up by Board President Glenda Savage while the board looked for a permanent manager.
Board trustee Dennis Scherzer claimed to have approached Savage and said that they needed a "professional person" to be the interim manager.
"And she said no, she is going to keep — Karen's her friend and she was going to protect her," Scherzer said, according to court documents.
The district hired Akin Okupe in October 2017 to replace Maxey.
The district, which covers most of East Palo Alto has a $4.1 million annual budget, and most of the money comes from sewage fees though it gets some money in property taxes.
The EPA Sanitary District has an elected board, but hasn't had a contested board election since 2013.
Elections draw little interest
In that election, the turnout was around 2%. For a district with 29,000 residents, incumbents Dennis Scherzer and Joan Sykes-Miessi were re-elected with 499 and 466 votes respectively.
A third candidate, who lost, Edrick Haggans got 236 votes. In 2009, the same three candidates ran, and Scherzer and Sykes-Miessi each got 390 votes, while Haggans received 369.