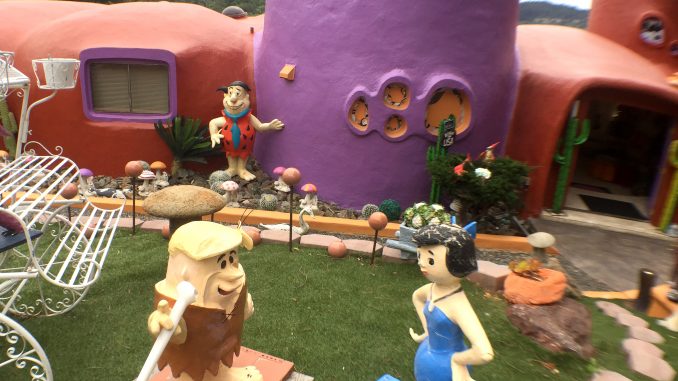 BY EMILY MIBACH
Daily Post Staff Writer
The attorney representing the owner of the Flintstone House claims that the town of Hillsborough is racially discriminating against owner Florence Fang.
The town sued Fang last month, claiming she did not get the proper permits to put up the large dinosaurs, which can be seen from Interstate 280, or make other changes made to her yard.
Attorney Angela Alioto said there are likely other residents who didn't get permits for their statues, but are not facing the same sort of harassment from the town because they're not Chinese.
"Or is it really about treating Mrs. Fang differently because of her dream and that she's Chinese and this is Hillsborough?" Alioto said April 11. Alioto said she's working on getting proof that Fang is facing racial discrimination.
Alioto said she will be seeking depositions of town employees who interacted with Fang during the permitting process.
She also said that there was a town employee who said all Hillsborough residents need to speak English. She didn't identify that employee.
Town attorney rejects allegations
"We find this charge of discrimination … to be false and offensive," said Hillsborough Assistant City Attorney Mark Hudak. "She's trying to excuse her lack of compliance with the code by making up these stories."
Hudak said Fang was treated with "absolute respect and fairness" when she interacted with town employees.
Alioto also claimed that a town employee told Fang that they'd help Fang get the permits to demolish the house.
"They don't want this home here and they don't want Fred Flintstone here … and it's un-American," Alioto charged.
Fang, the former owner of the San Francisco Independent and Examiner newspapers, claimed that she followed the rules given to her by the town's employees, but the goalposts keep getting moved.
But Hudak countered that it was not a matter of the town "moving the goalposts," but rather enforcing existing ordinances.
Scenic highway rules
He also said that since Interstate 280 is deemed a scenic highway, the county may enforce regulations pertaining to what people see on the interstate, such as her house.
Fang claims that she interacted with the town some 44 times in trying to make sure her yard was up to code.
Hudak acknowledged that Fang and her landscaper did sit down with the town last March to work out a compromise for the yard, but there was no agreement.
Fang late last year submitted an application for the already completed yard work, but it was deemed incomplete by the town, said Hudak.
Fang resubmitted her application, but once again it was found incomplete, so she received a letter last week from the planning department outlining her plan's deficiencies and what needs to be done to meet code requirements, Hudak explained.
Yesterday, Alioto said she plans on filing a countersuit that claims discrimination and overregulation by the town.