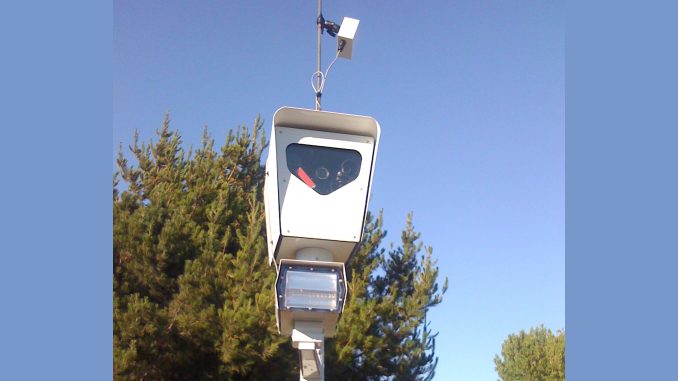 BY EMILY MIBACH
Daily Post Staff Writer
The red-light cameras in Menlo Park, which send motorists tickets for $480, will be shut off at the end of this month.
City Council last night (April 9) refused to renew the contract of the company that had been running the cameras for the city, Redflex.
Three of the five council members — Cecilia Taylor, Catherine Carlton and Drew Combs — all spoke against the red-light camera program and its current vendor, Redflex, whose executives were caught bribing city officials in Chicago and Columbus, Ohio.
There are two cameras along Bayfront Expressway, one at Willow Road and the other on Chilco Street. The other two cameras are on El Camino Real, one at Ravenswood Avenue and the other at Valparaiso Avenue.
"I can't support this program. That's $500 a ticket. It's incredibly regressive … we talk about equity a lot and for a lot of people that much is (a lot)," said Combs.
Carlton has long taken issue with the cameras and Redflex, and said that national studies have shown collisions have gone up after red-light cameras go in.
Taylor was not interested in doing business any longer with Redflex, which was the only vendor who submitted a bid, according to Cmdr. William Dixon.
Dixon said he reached out to five vendors to see if they would be interested in taking over the cameras, but none of them submitted a proposal to the city, saying that Redflex would still be the better deal because their equipment is already installed.
Safety concerns
Mayor Ray Mueller and councilwoman Betsy Nash indicated that they would be in favor of keeping the cameras for safety.
Mueller said he wasn't excited to vote on the contract given that Redflex was the only vendor. But he said he would have favored continuing the red-light cameras because Police Chief Dave Bertini said that the cameras do prevent T-bone accidents.
Bertini noted that T-bone crashes were the worst types of crashes he has ever responded to. They have a high rate of serious injuries and deaths.
Combs said that he hasn't seen a valid study that supports the claim that the cameras reduce T-bone crashes. Combs and Carlton said they saw studies that showed rear-end crashes increase after the cameras are installed.
Dixon, in his report to council, said there were 29 crashes in the four intersections in 2018, 46 in 2017, and 35 in 2016. His report didn't break down whether the accidents were T-bones or rear-enders.
Revenue
The cameras have churned out roughly 3,700 tickets a year. Those tickets generated $1.4 million in fines for the July 1, 2017-June 30, 2018 fiscal year. But the city only gets 32% of that. The state gets the lion's share, 46%, or $663,127 and the county receives 22% or $314,148.
The city's 32% share amounted to $461,306. But Redflex, the company that operates the cameras, got $312,000 of the city's share. And staffing costs in the Police Department gobbled up another $125,285.
That left the city with just $24,021 profit on $1.4 million in tickets.
The contract that was up for renewal yesterday would have charged the city $234,000 instead of the $312,000, letting the city keep a little more money.
Redflex's record
Redflex was caught bribing local officials in Columbus, Ohio, and Chicago to get city contracts.
Former Redflex CEO Karen Finley was sentenced by a federal judge to serve 30 months in prison in the Illinois case and 14 months in the Ohio case. She's also been ordered to pay $2 million in restitution.
Redflex bribed officials in Chicago, too. After an investigation, the city permanently banned Redflex from doing business there.