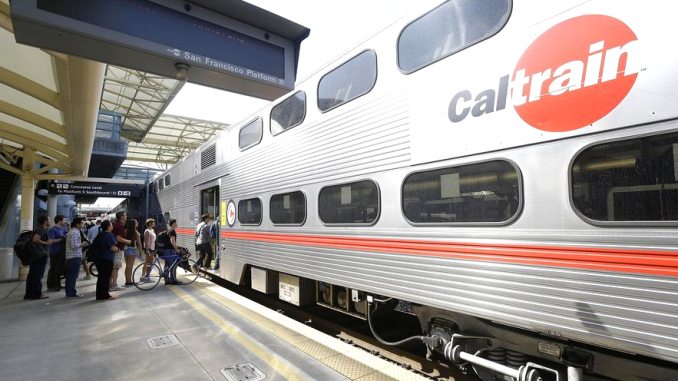 BY ALLISON LEVITSKY
Daily Post Staff Writer
A Santa Clara County resident with measles took Caltrain between San Jose and San Francisco four times last week, possibly exposing unvaccinated people to the disease while boarding the train on the Peninsula.
On April 1, the person boarded train No. 319 at the Tamien station in San Jose at 6:56 a.m. and rode to San Francisco at 8:13 a.m., according to the San Francisco Department of Public Health.
Then, the person took the southbound Caltrain at the San Francisco station at 8:45 a.m. and traveled until 9:15 a.m., which means the person would have gotten off at either the Hillsdale or Belmont stations.
On April 3, the person took the southbound Caltrain from San Francisco back to Tamien, boarding train No. 258 at 3:34 p.m. and getting off at 5:10 p.m.
The person also took the northbound Caltrain No. 279 from Tamien at 5:32 p.m. to 6:15 p.m., the time at which the train would have been in Palo Alto.
More information about the person's itinerary can be found at http://tinyurl.com/yya3n48x
What happened in Palo Alto?
While the basic information about the measles carrier's travels was released by the San Francisco Department of Public Health, Santa Clara County public health officials haven't released anything about the case, including what the person did after taking the train to Palo Alto.
The case is unrelated to other California measles cases, including the two reported in Santa Clara County last month.
San Francisco health officials said there likely is little risk to the public, but that anyone who may have crossed with the person and is not immune to measles should be aware of measles symptoms.
Symptoms
The symptoms can develop between one and three weeks after exposure and include fever, cough, runny nose, and red eyes, followed by a red rash that starts on the face or head.
Anyone who notices these symptoms should call a doctor immediately and warn officials of any medical facility of their measles symptoms before arriving.