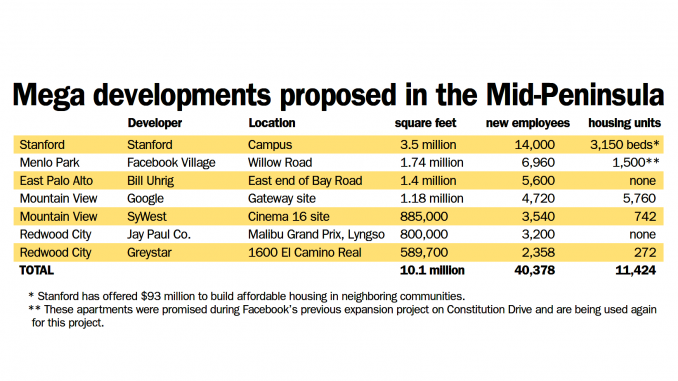 OPINION
BY DAVE PRICE
Daily Post Editor
Whenever you're negotiating for something — whether it is a new car, a house or a job — and you're not getting what you want, you need to have the courage to say "no" and walk away.
It's a simple idea, but people seldom do it.
The ability to say "no" gives you all the power in a negotiation.
If you read Friday's Post, you saw the story about how seven mega office projects are proposed for the mid-Peninsula. Together, they would result in 10.1 million square feet of office space. That means about 40,000 new employees, if you go by the rule of thumb that you get one new employee for every 250 square feet of office space.
How many homes have these seven developers proposed? Just 11,424.
That's terrible. That would make our housing shortage much worse than it is today.
Leave the community whole
I like free markets. The less government, the better off we all are. And I think that if you own a piece of property, you have the right to do just about anything you want as long as you don't make the lives of your neighbors worse. I mean you wouldn't dump your garbage in your neighbor's backyard, right? If you're a developer and you increase traffic or raise the demand for housing, then you've got to solve those problems and leave the community whole.
I'm talking about full mitigation.
"Full mitigation" is a phrase I heard Santa Clara County Supervisor Joe Simitian start using a few years ago, and Palo Alto Mayor Eric Filseth said it in his state of the city address.
In the past, we've settled for partial mitigation. A project might produce 100 jobs, but a city council would be satisfied if the developer offered enough money to build 10 apartments. Or a project might increase traffic on a street, so the city would settle for money to build a bike lane.
If we had insisted on full mitigation on every project 20 or 30 years ago, we wouldn't have the outlandish traffic and housing problems that make our lives miserable today.
But we can begin to correct this problem if we start insisting on full mitigation starting today.
Stanford's housing gap
For instance, Stanford is proposing a 3.5-million-square-foot expansion over several years.
If you go by the formula of one job for every 250 square feet, that's 14,000 additional people on campus. But the university is only proposing beds for 3,150 people.
Stanford is also proposing to pay $93 million for affordable housing in the cities near campus.
But if they're only going to house 3,150 people, where will the other 10,850 people going to live?
The $93 million won't pay for homes for 10,850 people. While $93 million sounds like a lot of money, when you divide it by 10,850, it comes out to $8,571 per person. That won't build a home. That will pay for two to three months rent in Palo Alto.
If Stanford doesn't fully mitigate this housing gap, the project shouldn't be approved. Period.
Moving now to Redwood City, San Francisco developer Jay Paul Co. wants to build 1.1 million square feet of office space on the former sites of Malibu Grand Prix and Lyngso Garden Materials east of Highway 101. The project would add 3,200 jobs but have no housing.
When city officials have pressed Jay Paul's representatives about that, they said that the soil is too contaminated for housing. If it's too contaminated for housing, then it's not safe for office workers either. These days people spend about as much time at their jobs as they do at home. Contaminated soil can be removed and replaced. It's done all the time. But it's not cheap.
No housing, no approval
Our next stop is East Palo Alto, where at the east end of Bay Road by Cooley Landing, New York developer Bill Uhrig wants city approval for 1.4-million square feet of office space in five buildings that would rise eight stories. It's comparable to the Oracle complex in Redwood Shores. This development would result in 5,600 additional employees. No housing is proposed and Uhrig is offering little to mitigate the traffic that would pour out onto University Avenue, which is nearly at gridlock during the rush hours.
These projects shouldn't get to first base in the approval process. They don't even make the pretense of solving the problems they'll create.
This takes courage
When it comes to negotiating with a developer, I realize that saying "no" isn't easy. It takes courage and stubbornness.
A city attorney or top city planner will tell the council member that if they don't surrender to the developer, they'll get sued.
Just once I'd like to hear a council member say in response, "(Expletive) that, I'm looking out for the residents of this town, and if this developer wants to sue over this terrible project, bring it!"
Editor Dave Price's column appears on Mondays. His email address is price@padailypost.com.