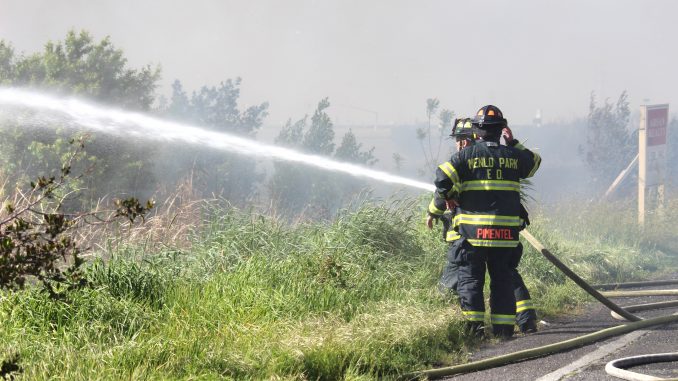 BY EMILY MIBACH
Daily Post Staff Writer
The homeless living in the marsh southwest of the Dumbarton Bridge have dug out homes for themselves and live underground, Menlo Park police Cmdr. William Dixon told City Council.
"I saw my first underground dwelling out in the marsh land. It's like a 12 foot hole with a roof," Dixon said during a Tuesday, March 12, council session on the homeless situation. "I've also seen a home of sorts out there with a door with a chain and padlock, it's more built up out there."
He said most of the people in the marsh have jobs. He said he's seen more turnover in marsh dwellers — sometimes officers will only see three people, and at other times they'll find 15 to 20.
Dixon told council that the homeless situation in downtown Menlo Park is entirely different.
He said there are about 10 homeless people downtown, who sit, lie or park their shopping carts in front of stores along Santa Cruz Avenue.
Dixon said he's known most of the downtown homeless for years. He said that all 10 have received housing or were in shelters, but they all ended up back on the streets. Dixon said that if he gets a call about a homeless person downtown, he usually knows who it is and where they will be.
Downtown Streets Team
Council didn't take any action Tuesday to bolster the police or nonprofit response to the homeless, but council members indicated that they want the Palo Alto-based nonprofit Downtown Streets Team to enter into a contract with the city to get the homeless working and in homes.
In addition to Palo Alto, it also operates in Sunnyvale and Santa Cruz.
The program gives the homeless, or those at risk of becoming homeless, a job beautifying the city, often by pushing a broom.
The council also said it would like Dignity on Wheels, a mobile shower and laundry machine service that goes to Burgess Park once a week, also go to the Bayfront to help those who live in the marsh.
The city will have to find a way to dispose of the waste and water, which is why it is currently hosted at Burgess, according to Dixon.
Decisions in Redwood City
Meanwhile in Redwood City, the city council on Monday, March 11, approved a two-year trial for the Downtown Streets Team to operate in that city.
The program will cost about $300,000 a year to run.
The Redwood City council also approved a contract with a nonprofit to help people find housing.
The contract will cost the city $100,000, and the city will chip in an additional $10,000 to provide incentives to landlords who agree to house people.
According to a San Mateo County census, there were 47 homeless in Menlo Park and 143 in Redwood City. The numbers include people living in RVs or cars.