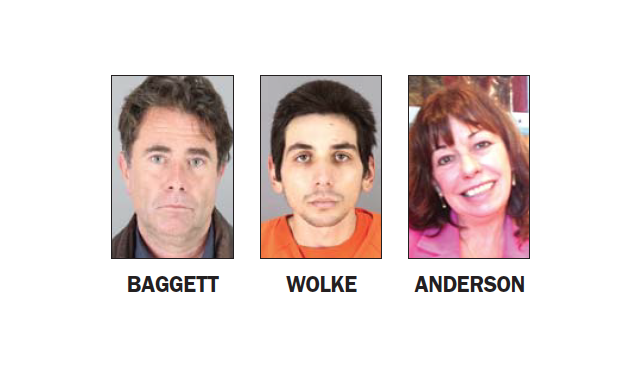 This story was originally published Jan. 31 in the Daily Post.
BY EMILY MIBACH
Daily Post Staff Writer
Authorities yesterday (Jan. 30) shed more light on why the man who discovered the body of murder victim Kathy Anderson allegedly broke into her house two months after her death to steal a potted plant.
The plant was the last one the former Atherton arborist would ever plant, said San Mateo County Assistant District Attorney Sean Gallagher.
Daniel Baggett, who was charged with trespassing yesterday (Jan. 30) , said he was close to Anderson and used to rent a room in that house from her.
Another oddity in Monday's (Jan. 28) burglary of Anderson's house — Baggett was told by police not to go to her home at 925 Valparaiso Ave.
Yet, he did so anyway, and was caught, according to police.
Baggett, 47, is the man who on Dec. 12 said he was checking on Anderson when he discovered her body and a man who would later be charged with the murder, Francis Wolke, of Cincinnatti, Ohio.
Baggett said he found Wolke inside the home with blood on his clothes.
Baggett called 911 and said he held Wolke at knifepoint until police arrived.
Baggett told the 911 dispatcher over the phone that Wolke said he had "killed" a woman.
Why would Wolke have killed Anderson?
Gallagher said yesterday that at this point, Anderson's death seems "random."
"We're always interested to talk to people who has evidence showing otherwise," Gallagher said.
The 'how' and 'why' of the murder
He also noted that Menlo Park police are working on many different angles to figure out the "how and why" of Anderson's murder.
"Why her and why this house," Gallagher asked. "We will see if something comes out."
Wolke has not entered a plea yet in the case. He was set to do so on Jan. 21, but did not appear in court because he was in the hospital for unknown reasons. He is set to appear in court on Feb. 14 and is in jail on $10 million bail.