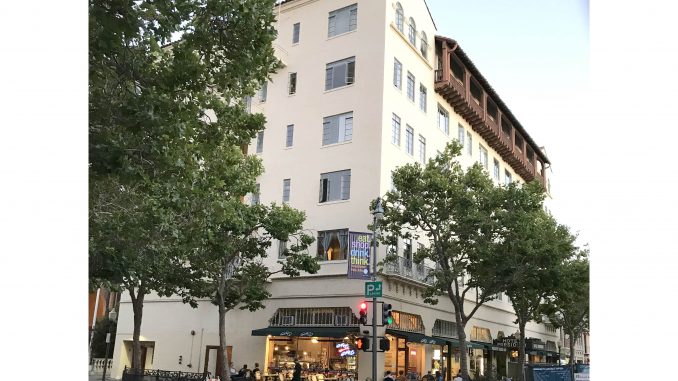 BY ALLISON LEVITSKY
Daily Post Staff Writer
The last handful of tenants remaining in the Hotel President apartments expect to be evicted from their Palo Alto homes soon, but it's unclear why the new owner wants the building empty since the city is blocking plans to convert it into a hotel.
"At this point, all but two residents have provided us with notice that they will be vacating the building between now and the end of February, and we are accommodating those who need the additional time in February," Graduate Hotels President Tim Franzen told the Post in an email.
What will happen to building?
Franzen wouldn't say why the company wants the building emptied out when its initial plan to convert it back into a hotel has been stymied by the city.
Franzen's hotel chain, which is part of the Chicago-based company Adventurous Journeys Capital, bought the 75-unit apartment building for $65 million in June.
In the meantime, the last few tenants are preparing to clear out of the building at 488 University Ave.
Michelle Kraus, who has lived in the building for 10 and a half years, said there were about 25 tenants left in the building two weeks ago. Thursday (Jan. 31) it was down to about six, she said.
AJ Capital is allowing some of the older tenants or those with injuries or disabilities to stay through February, Kraus said.
"I don't know what the heck they're going to do with an empty building," Kraus said. "This building needs an awful lot of work."
Some may become homeless
Kraus said that many of the tenants had been able to find apartments in Palo Alto, but that it had taken months of searching. A couple of older tenants, Kraus worries, run the risk of becoming homeless.
Some of the available units were a two-bedroom apartment on Forest Avenue for $8,500 a month and a three-bedroom apartment on High Street for more than $10,000 a month, Kraus said.
"This is crazy-making," Kraus said. "You can't even rent an Eichler for less than $5,000 a month."
Investors wanted to open a hotel

AJ Capital bought the 1929 building with the intention of converting it back into a hotel.
But that would violate a city code banning the conversion of oversized buildings like the President.
On Wednesday (Jan. 30) evening, the Planning and Transportation Commission recommended that City Council accept the conversion of oversized buildings — allowing the Cheesecake Factory at 375 University Ave. to become a retail store, for example — while banning the removal of housing from such buildings.
The code change would have to be approved by council to take effect.