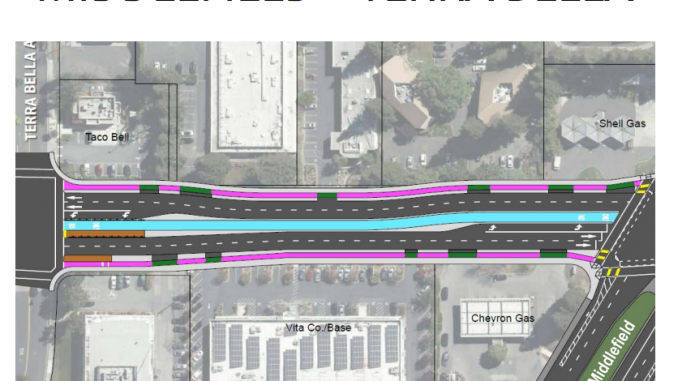 BY ALLISON LEVITSKY
Daily Post Staff Writer
The city of Mountain View is preparing to buy seven 8-foot slices of land along N. Shoreline Boulevard in order to make room for a reversible bus lane, allowing VTA buses, the city's Google-funded free public shuttle and corporate charter buses to scoot through traffic faster.
"If you've traveled northbound in the morning trying to get into the North Bayshore where Google is and the other firms, it's absolute gridlock," Mountain View's property manager, Dennis Drennan, told the Post. "The whole genesis of this project is a desire by City Council, city leadership and the community to reduce the gridlock on Shoreline Boulevard."
The reversible bus lane will go where the median is now, in the middle of the street. In the morning, buses and shuttles will travel north toward the North Bayshore, and in the evening, they'll go south.
Shoreline won't lose any travel lanes as a result of the project.
Assistant Public Works Director Dawn Cameron said the project seeks to encourage transit and shuttle use by moving buses faster than cars.
Increasing the roadway capacity
"Particularly for Shoreline, the roadway capacity is pretty much maxed out," Cameron said. "It's just one of the ways that Mountain View is working to be very proactive and provide new transportation solutions."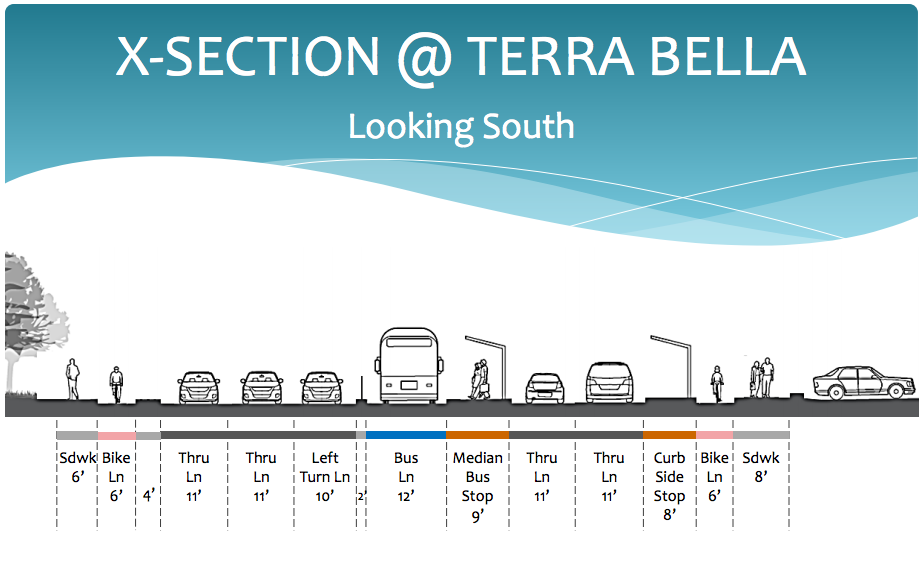 The project will also feature a protected bike lane on both sides of Shoreline.
The parcels are on both sides of the street on the 800 and 900 blocks of Shoreline, between W. Middlefield Road and Terra Bella Avenue.
Three of them are gas stations — an Arco, a Chevron and a Shell — and others are office or research and development buildings.
City Council will met behind closed doors Tuesday (Jan. 22) night to discuss the acquisition.
Drennan said he'll be presenting the appraised value of the properties to council privately. He declined to reveal the value of the land to the Post.
City buying strips of land
After Drennan gets the go-ahead from council, he'll send letters to the property owners, offering to buy the land from them for the appraised value.
"We're only acquiring little strips of land, generally about 6 to 8 feet of depth from Shoreline Boulevard," Drennan said. "We're not acquiring the entirety of any of these properties, and in fact, the functionality of these properties should remain the same as it is now."
Drennan said he hopes the city will acquire all the necessary right of away in the next six months so construction can start this summer. The $12.5 million construction project will take two years and will be done in phases.
While the street is torn up, the city will also replace water and sewer lines.
"It's a major undertaking. It's a whole lot more than pouring concrete and laying asphalt," Drennan said.