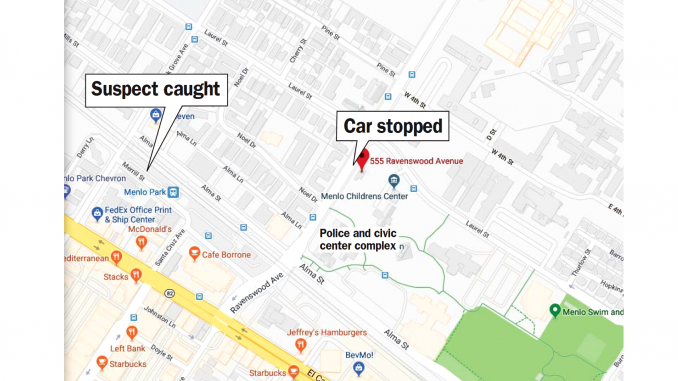 By the Daily Post staff
A grab-and-run theft at Macy's at the Stanford Shopping Center this afternoon (Jan. 14) ended in Menlo Park where two people were arrested, one of whom was captured after a foot chase.
The episode began at about 5 p.m. today when a shopper saw the theft in Macy's Mens store and followed a female thief into the parking lot, according to police radio transmissions.
The shopper called police and let them know she was following the thief out of the parking lot and on to Sand Hill Road, then El Camino Real north into Mountain View.
Palo Alto police, who were on the line with the witness, contacted Menlo Park police, which began to move cop cars into the area.
The suspects' vehicle was registered to an address in Vallejo, a dispatcher told officers.
The suspects turned right onto Ravenswood and an officer pulled them over at 555 Ravenswood, about a block from the Menlo Park police station.
But the man took off running.
Police surrounded the area that includes Laurel Street, Noel Drive and Alma Street. Minutes later, at 5:25 p.m., a Palo Alto cop spotted the male suspect and after a foot chase caught him on the west side of the Caltrain tracks near Oak Grove Ave.
After the couple were detained, police were checking the area for items the suspects possibly discarded during the chase. Police were also going back to the Macy's Mens store to secure videos of the theft.