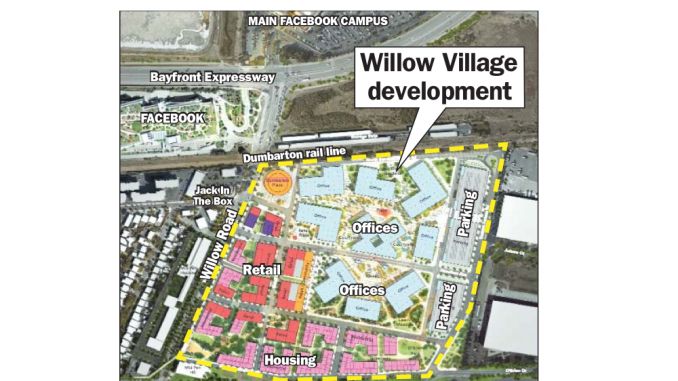 BY EMILY MIBACH
Daily Post Staff Writer
One of the most talked about issues during the Menlo Park Council race — Facebook's Willow Village proposal — has not been discussed by the council or the city's planning commission for about nine months.
The last time the council discussed Facebook's plans was on March 27, when the council held a study session on the 54-acre development. At that meeting Mayor Peter Ohtaki predicted that the council would be holding another review session of the project in April or May of this year.
But the project has not resurfaced since then, Principal Planner Kyle Perata said.
The March study session was so the city council and residents could weigh in on the development proposal, so Facebook could then refine its plans for Willow Village, and then resubmit their plans to the city.
There is no deadline for Facebook to resubmit its plans, Perata said.
Seemingly unending scandals
But in the nine months between the study session and today, Facebook has been embroiled in one scandal after another. Perhaps the biggest was the revelation that the private data of 50 million users was swiped by Cambridge Analytica, a political research firm that was working for the Trump campaign.
More recently, the New York Times reported that Chief Operating Officer Sheryl Sandberg asked employees to do research on George Soros to see if he was manipulating the company's stock with negative comments.
And this week a U.K. parliamentary committee offered evidence that Facebook used its enormous trove of user data to cut special deals with some app developers to give them more access to data, while icing out others that it viewed as potential rivals. The evidence also shows that Facebook collected call records and text users of phones that run on Google's Android operating system without asking for permission from users.
Stock plunges
Since July, Facebook's stock has been steadily declining, from 217.50 on July 25 to $139.63 yesterday.
Anthony Harrison, director of corporate media relations for Facebook said the project is "continuing to move forward. We have spent the last several months gathering feedback form the community about what is important to them."
Facebook wants to build the Village at the southeast corner of Willow Road and the Dumbarton rail spur that would include 1.75 million square feet of office space, 1,500 apartments, 125,000 square feet of retail, a 200-room hotel and 5,319 parking spaces. The retail aspect of the plan calls for a grocery store and pharmacy.