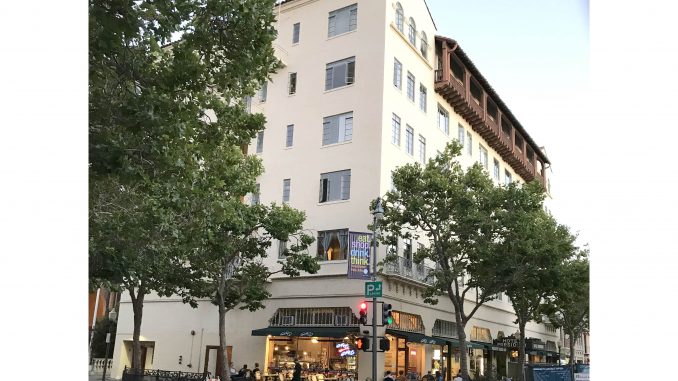 BY ALLISON LEVITSKY
Daily Post Staff Writer
A city employee made a copy-and-paste typographical error in Palo Alto's zoning code in 2016 that is now blocking the Hotel President apartments from being converted back into a hotel, Interim Planning Director Jonathan Lait said yesterday (Nov. 30).
City officials didn't realize that the code prohibited the conversion until Palo Alto Neighborhoods activist Jeff Levinsky pointed it out on June 9, days before the sale of the building at 488 University Ave. went through.
In July, Lait advised the buyer, hotel group Adventurous Journeys Capital, that the conversion would violate the city's grandfathering laws, which prevent oversized buildings from being converted to a new use. That means the President Hotel can continue as a residential property, but can't become a commercial building, such as a hotel.
But the code isn't supposed to say that, so the city wasn't aware of the in correct language in the code change until Levinsky pointed it out, Lait told the Post.
When a city worker was updating the zoning code after an extensive set of amendments in 2016, the section on "nonconforming use" seems to have been copied and pasted into the "nonconforming facilities" section, Lait said.
The mistake is preventing conversions at four properties, including the Hotel President and the former Cheesecake Factory at 375 University Ave., where the owner wants to open a retail store but isn't allowed.
City Council will be looking at amending that part of the zoning code on Dec. 10, Lait said.
And sometime next year, council will vote on lifting the 350,000-square-foot cap on downtown office development in accordance with the Comprehensive Plan, a land-use document that council updated last year.
Currently the downtown office cap is preventing the 50,000-square-foot Hotel President conversion because only about 20,000 square feet are left.