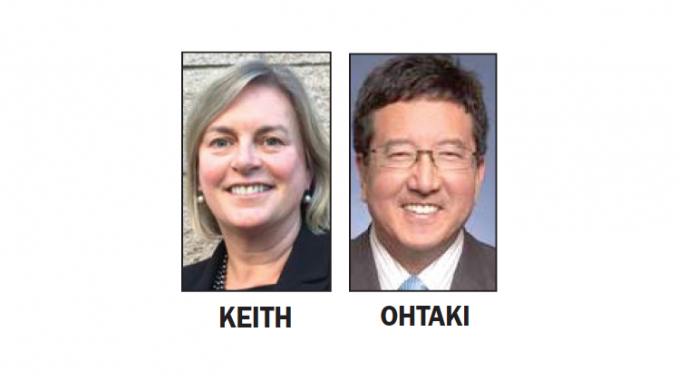 BY EMILY MIBACH
Daily Post Staff Writer
Menlo Park council incumbents Peter Ohtaki and Kirsten Keith have both seen bumps in their campaign war chests from developers, according to financial forms posted to the city's website yesterday (Oct. 26).
Keith, with $26,709, has also raised the most out of any candidate for Menlo Park council. Some of the large contributors to her campaign are California Association of Realtors ($1,000), Joel Butler of Redwood City-based W.L.. Butler Construction ($300), PG&E ($250), Windy Hill Property Ventures partner Richard Spieker Jr. ($500), Anton Development Co. ($950) and Core Affordable Housing LLC ($950). She has also received $25 from former Mayor Chuck Kinney, State Sen. Jerry Hill, D-San Mateo, ($100), Planning Commissioner Susan Goodhue ($50) and Complete Streets Commissioner Bianca Walser ($50).
Keith and Ohtaki have received $500 each from Palo Alto-based Greenheart Land Co. On Jan. 25, 2017, Ohtaki, Keith and the rest of council approved Greenheart's 420,000-square-foot, 6.2-acre development of offices, homes and stores at 1300 El Camino Real.
Ohtaki has raised $6,905. Aside from the $500 from Greenheart, he has also received $1,500 from the Lincoln Club of Northern California, a group that backs Republican Candidates, $100 former city manager Glenn Rojas, $500 from Matt Matteson, who is co-president of JB Matteson, a real estate investment and management group, and $1,000 from both the California Real Estate PAC and the California Apartment Association. He has also received contributions from Planning Commissioner Henry Riggs ($250), developer John Tarlton ($950) and former Parks and Recreation commissioner Allan Bedwell ($250).
Both Keith and Ohtaki are seeking their third terms on council. Because the city is now electing its council members in district elections, Keith is running against Planning Commissioner Drew Combs to represent District 2, which encompasses the Willows, Flood Triangle, Suburban Park and Lorelei Manor neighborhoods.
Combs has raised $14,808, including a $4,000 loan from himself to the campaign. He has received contributions from Menlo Park business owner Edward Nickerson III ($150), Menlo Park builder Thomas Jackson ($150), former library
commissioner Lynne Bramlett ($250), Portola Valley Councilwoman Maryann Moise Derwin ($500), former mayor Heyward Robinson ($250), Peter Joshua, CEO of Solarius Development ($1,000), Belmont Councilman Charles Stone ($99), West Bay Sanitary board member Roy Thiele-Sardina ($250), resident George Fisher ($500) and Menlo Park Fire board member Peter Carpenter ($1,000).
Betsy Nash and Ron Shepherd are running against Ohtaki to represent District 4, which includes Allied Arts and the area between Santa Cruz Avenue and Valparaiso Avenue.
Shepherd has raised $7,600, including a $5,000 contribution to himself. His contributors include Menlo Park resident Roberta Carcione ($200), Care Indeed ($500), Oakland resident Steven O'Donnell ($250), Menlo Park resident Claire Scholz ($200), Menlo Park resident Sandy McNamara ($250) and resident Walker Gloria ($200).
Nash has raised $6,350. Her contributors include retired Menlo Park couple John and Marlene Arnold ($200), Menlo Park Fire Protection Board member Peter Carpenter ($250), El Camino Hospital employee Cecile Currier ($250), Housing Commissioner Karen Grove ($100), former mayor Heyward Robinson ($250), former Menlo Park councilwoman Kelly Fergusson ($250), attorney George Fisher ($250) and transportation advocate Jennifer Wolosin ($100).
The least amount of money has been raised in the District 1 race, where Cecilia Taylor, Mike Dunn and George Yang are competing to represent the Belle Haven neighborhood on council for the first time in 30 years. Dunn has not reported raising, or spending, any money on his campaign.
Taylor has raised $6,964, receiving money from Kirsten Keith ($100), Assemblyman Marc Berman ($500), Heyward Robinson ($200), Lynne Bramlett ($250), Palo Alto resident Yuhui Chen ($250), investor Sophie Lo ($200), former councilman Steve Schmidt ($200), transportation advocate Jennifer Wolosin ($100), Atherton resident Sandy Crittenden ($400) and former councilwoman Kelly Fergusson ($250).
Yang has raised $3,980, including a $1,000 loan to himself. Yang has received contributions from Foster City attorney Mark Watson ($500), arborist Jess Running ($100), San Carlos council candidate John McDowell ($100), Los Altos real estate broker Theresa Couture ($500) and retired Fremont resident Evelyn Evans ($1,000).
All of the candidates' finance forms can be found at https://bit.ly/2CKdWt9