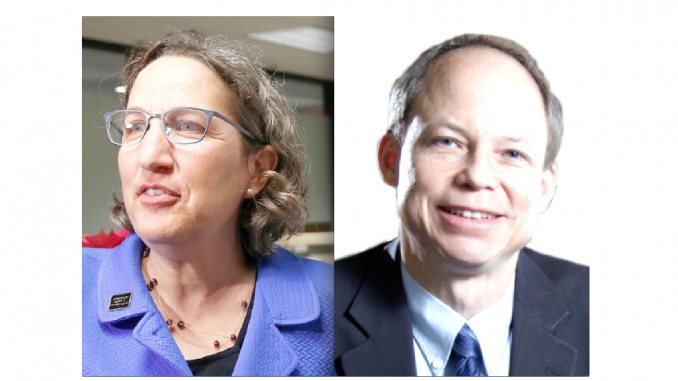 BY ALLISON LEVITSKY
Daily Post Staff Writer
Ousted judge Aaron Persky will have to pay $161,825.68 to attorneys representing the Michele Dauber-led recall campaign that booted him from office, a Santa Clara County Superior Court judge has ruled.
Judge Kay Tsenin awarded the fees to the recall campaign's lawyers on Monday (Oct. 22), four months after attorneys for the campaign motioned for them.
The San Jose law firm McManis Faulkner spent $378,000 representing Persky as his lawsuit made its way through the trial court, the court of appeal and the state Supreme Court. But McManis won't be sending him a bill, attorney Elizabeth Pipkin said.
Pipkin said it was "unfortunate" that Tsenin's order for Persky to pay the recall campaign's attorneys' fees "coincides with the loss of his job as a distinguished jurist."
Persky made $186,416.90 as a judge last year, according to Transparent California. His supporters raised more than $840,000 to fight the recall effort, but only about $10 is left over in the campaign account, Persky told the Post yesterday (Oct. 23).
Persky said he would ask the state Fair Political Practices Commission whether he's allowed to use the campaign account to collect donations from supporters who want to help him pay his attorneys' fees.
"If that's not possible, then ultimately I may be just personally responsible," Persky said.
Dauber calls Persky's suit 'frivolous'
Dauber, a Stanford law professor, said the fee award to the recall campaign's lawyers was "well deserved."
"Judge Persky repeatedly filed frivolous lawsuits against the recall campaign with the goal of stalling and causing expense," Dauber said in an email. "We are happy that our lawyer will be getting paid for his outstanding work in defending our constitutional rights and those of the voters of Santa Clara County."
Persky sued the campaign and the Santa Clara County Registrar of Voters in August 2017 in a failed attempt to keep the recall vote off last June's ballot.
His attorneys argued that because Superior Court judges are appointed by the governor for their first term, his recall would have had to be placed on the ballot by the Secretary of State, not the county registrar.
The lawsuit was unsuccessful and he was recalled from office with 61.6% of the vote after an uproar over the six-month county jail sentence he gave to Stanford dropout Brock Turner for sexual assault.
Settlement rejected
Attorney Fredric Woocher, of the Los Angeles firm Strumwasser and Woocher, represented the recall campaign without payment, pending the award of attorney's fees.
"When we first filed our motion for attorneys' fees back in June, we offered to settle the issue with Judge Persky without having to engage in yet more litigation," Woocher told the Post. "Judge Persky and his attorneys flatly refused, and they instead spent the next four months trying to intimidate us and fighting tooth and nail over this issue, adding another $50,000 to the attorney fees we were forced to spend on the case."
Motion to depose Dauber denied
In July, Persky's attorney Jim McManis tried to question Dauber about the attorneys' fees motion under oath in a deposition. On Aug. 15, Tsenin denied McManis' motion to depose Dauber.
"We are hopeful that the trial court's ruling yesterday will finally put an end to this litigation and stop any more needless spending — on both sides," Woocher said. "The choice is up to Judge Persky. If necessary, however, we are fully prepared to defend the trial court's award on appeal."