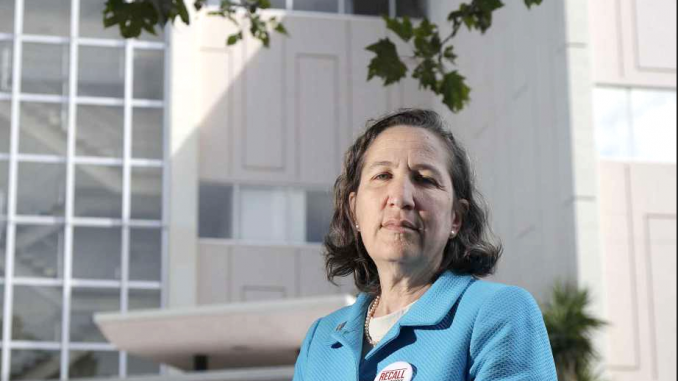 BY ALLISON LEVITSKY
Daily Post Staff Writer
A man who regularly protested against the recall of Judge Aaron Persky has filed a defamation lawsuit against recall leader and Stanford law professor Michele Dauber.
Steve White, 55, of Hayward, also named Women's March San Jose leader Jenny Bradanini and Santa Clara County District Attorney's Office spokesman Sean Webby in the Sept. 4 suit.
White is representing himself in the suit, which also alleges the intentional infliction of emotional distress and interference with his free-speech rights.
Last year, he tried unsuccessfully to get a restraining order against Dauber, claiming she had sent recall supporters to "swarm" or "mob" his one-man counterprotests at recall-related rallies and events. In the new lawsuit, he claims that Webby suppressed his First Amendment rights by having DA inspectors surveil him at a press conference where District Attorney Jeff Rosen announced a proposed change to state law related to Stanford dropout Brock Turner's six-month sentence for sexual assault.
At another event, White claims that Webby conspired with Dauber to steal his anti-recall sign.
'Minions'
White claims that in addition to stealing his protest sign, Dauber sent "her minions" to shout him down at public events, including when he was trying to speak with TV reporters. One such instance allegedly took place when he was speaking to a reporter at a Spanish-language TV station.
This, White said, made it impossible to "expose Dauber's lies regarding Judge Persky, in particular lies regarding Persky's sentencing of Raul Ramirez, particularly vicious lies because they falsely accused Persky of racial bias against Latinos."
Ramirez pleaded guilty to sexually assaulting his pregnant roommate by force, a conviction that brings a mandatory three-year prison sentence.
Dauber's recall movement held up Ramirez's sentence as evidence that Persky showed favoritism toward white men because Turner only got six months in county jail. Turner's crimes did not carry a mandatory prison sentence in state law.
Dauber and Webby were unaware of the lawsuit when reached for comment yesterday.
"There is certainly strong opposition to our movement, and I expect to be the target of frivolous lawsuits like those Judge Persky brought during the recall," Dauber said. "As in that case, I am confident that the courts will see through any meritless suits."
White has also accused Dauber of getting his accounts suspended on Google, YouTube and Twitter, alleging that she used "insider influence" because her husband Ken is a "high-level Google executive, and Google owns YouTube."
Dauber's husband, the president of the Palo Alto school board, is an engineering manager at Google.
According to White, Dauber also had something to do with his comments being deleted from Stanford Daily articles because the college newspaper's managing editor "seems to feel a great deal of admiration — perhaps bordering on worship, for Dauber."
Other incidents
White also cites an incident at the Commonwealth Club in 2016 when he was asked to leave the area outside the venue, where Dauber was speaking on a panel about campus sexual assault inside. White claims this constituted harassment.
On Sept. 2, 2016, the night Turner was released from Santa Clara County Jail in San Jose, White says that Dauber grabbed his pro-Persky sign, ran with it and hid it. White also blames Dauber for his removal by police from an event at Stanford Law School on May 1, 2017.
Bradanini, a supporter of the recall campaign, is accused in the suit of making a comment on a Newsweek story saying that she had expertise in identifying rapists and that she could tell White is a rapist, based on his comments. The comment was later removed, White claims.