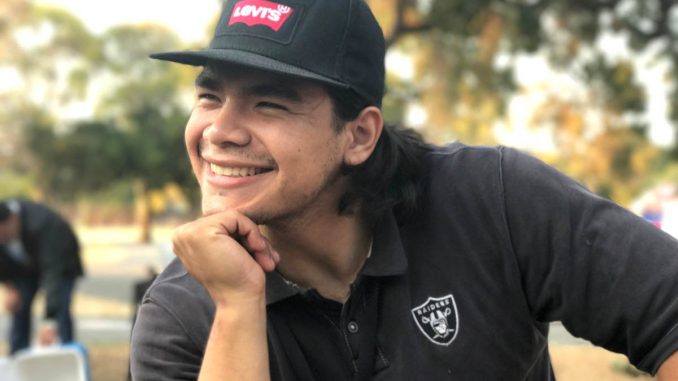 BY EMILY MIBACH
Daily Post Staff Writer
A graduate of Sequoia High School in Redwood City was one of two people who were shot to death at a 21st birthday party at the A1 Auto Services and Towing lot in East Palo Alto.
Eduardo "Lalo" Alvarado Sandoval, 22, of Stockton, was killed early Sunday (Oct. 14) morning along with another man whose identity is being withheld until next of kin are notified.
Pablo Arias, owner of A1 Auto Services and Towing, said his daughter was hosting a Halloween-themed 21st birthday party on the company's lot at 2526 Pulgas Ave., east of Bay Road.
Arias said he left the party between 11:30 p.m. and 12:30 a.m. and went to bed. Sometime after 2 a.m. Sunday, someone came by and told him that there was a shooting at his shop. When he arrived, police were already closing down the street and investigating.
A fight broke out at the party, and after things got physical, someone started shooting, according to East Palo Alto police Cmdr. Jeff Liu.
Police learned of the shooting at 2:44 a.m., from their ShotSpotter system, which picks up the sound of gunfire in the city and triangulates the location.
Police said they were on the scene in less than two minutes and found four victims suffering from gunshot wounds. In addition to the two men who were shot dead, two others were seriously wounded.
One was the boyfriend of Arias' daughter. Arias said that the boyfriend, who was initially in critical condition, was doing better yesterday (Oct. 15). He was up and walking yesterday afternoon. The other man is in stable condition, Liu said.
Police are trying to interview the two dozen or so partygoers in order to get as much information as possible about the shooting. No arrests have been made.
Liu said there is no indication that the shooting was gang-related, but appears to be simply a fight.
Sandoval, one of the young men who died, is a Sequoia High School graduate and played for the school's football team, according to posts on a GoFundMe campaign set up by his cousin, Karina Macias.
Sandoval, who went by Lalo, is described by Macias as "both tough and soft. His build was menacing, but he was soft for his family and the people he cared about."
He was dropped off at the party by his mother, according to the GoFundMe page. The GoFundMe page has raised $7,149 of the $10,000 goal for funeral expenses. Those interested in contributing can go to https://www.gofundme.com/celebratelalo.
Sunday night's shooting was the first homicide to occur in public in East Palo Alto since June 10, 2016. A murder-suicide occurred in East Palo Alto on Dec. 13 inside a home.
Anyone who witnessed this incident or has any information is urged to contact the police Department by:
• Calling Detective Lydia Cardoza at (650) 853-7249
• Sending an anonymous email to epa@tipnow.org
• Sending an anonymous text to (650) 409-6792
• Or leaving an anonymous voicemail by calling (650) 409-6792