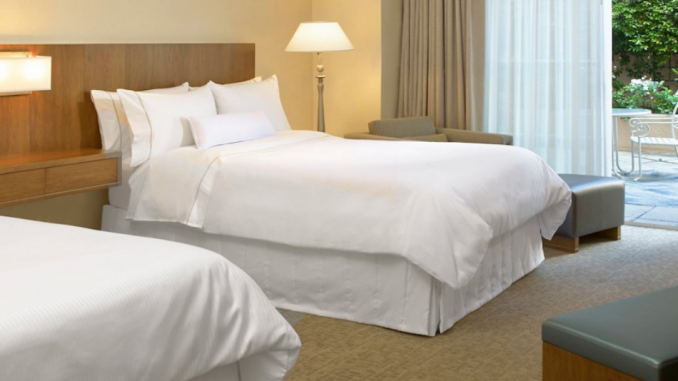 DAILY POST EDITORIAL
Palo Alto's Measure E seems like a tax inspired by a Monty Python skit.
In one episode, a politician in a bowler hat says, "To improve the British economy, I'd tax all foreigners living abroad."
And that's what a hotel tax is, right? It will be paid by those visiting Palo Alto, largely corporations which book most of the 2,024 rooms in the city's 27 hotels.
Measure E is the third hotel tax the council has put on the ballot since 2007. If approved, Measure E would raise the tax from 14% to 15.5% — a whopping 10% increase.
Cities across California have become addicted to hotel taxes. Consider your typical store. Say it charges a 9% sales tax. Only one 1% goes to the city. The rest to the county, transportation districts and the state.
But with a hotel, 14% of its revenues go directly to the city. That's why cities like hotels so much.
Because of this, cities across the state have rolled out the red carpet to anyone interested in building a new hotel. That's why you're seeing so many hotels popping up everywhere.
Hotels represent 12% of Palo Alto's general fund budget. If Measure E is approved, the city expects to bring in an additional $2.6 million a year.
But that might not happen.
Data collected by the city shows the hotel occupancy rate has begun to flatten out. In fact, it dropped from 78% last year to 77% this year, after several years of increases. Room rates have flattened out too.
Other cities have lower rates
The problem Palo Alto will have if it raises the rate to 15.5% is that corporate travel planners will decide to put their people in Mountain View (10%) or Menlo Park (12%). Former Garden Court Hotel general manager Barbara Gross, who is now an industry consultant, says that corporate travel planners are very savvy about rates, and this increase might be the thing that sends travelers to neighboring cities.
If so, that $2.6 million a year the city is seeking will never materialize.
We're also worried that Measure E will have a cascading effect on the economy. Fewer hotel guests will mean less business for restaurants, bars and stores. We're seeing some uncomfortable indicators in downtown Palo Alto with the closure of the Cheesecake Factory and the decisions by Nola and the Old Pro to stop offering lunch most days of the week. And don't forget the money visitors spend in local stores. Does Palo Alto want to lose that revenue to Menlo Park and Mountain View?
City Council seems to assume that the downtown area will never go into decline. We believe the situation is more fragile than they realize.
Poor outreach
We also don't like how the city rolled out Measure E. Instead of reaching out to the hotel industry while this tax was being studied, a city official met with industry leaders on the Friday before the Monday council meeting when it would be put on the ballot. The measure was already written up when the hotel owners and managers were asked their opinion.
The ballot measure voters will see is deceptive, too. It talks about how the tax would "ensure stable 911 emergency communications …" The 911 service isn't going away if Measure E fails. If something were to happen to the police station at 275 Forest Ave., the police have a semi-trailer-sized mobile communications center ready to go. But council is able to mention 911 on the ballot measure because the money will go for the new $90 million police station the city wants to build on Sherman Ave.
The city has polled residents twice before about a possible bond measure for a police station, but each time there wasn't enough support to get past the two-thirds threshold. But a hotel tax only requires a majority approval.
If the city wants to pursue a police station, put that on the ballot as a bond measure and convince residents why they should support it.
We recommend voters say "no" to Measure E.