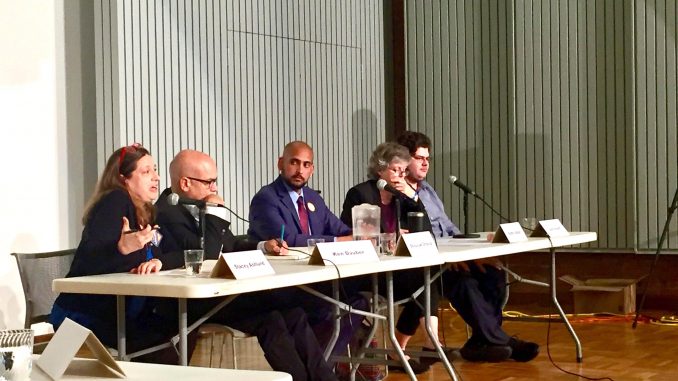 BY ALLISON LEVITSKY
Daily Post Staff Writer
At a Palo Alto school board candidate debate tonight (Sept. 20), a high school journalist took the opportunity to confront a candidate about her criticism of the student press.
Paly Voice reporter Nisha McNealis brought up Kathy Jordan's criticism of the Campanile, another Palo Alto High School publication.
Previously, Jordan has criticized an Oct. 2, 2017, article in the Campanile that said a 2016 on-campus sexual assault between two students was later "determined to be consensual." The 14-year-old victim has told Channel 2 and the Mercury News that the boy forced her to have oral sex in a school bathroom.
"This was a fellow student. How would you feel to have been allegedly assaulted and then have your fellow students disavow you in such a manner?" Jordan asked in an email to Campanile journalists on Oct. 22.
At tonight's debate, McNealis cited the California Student Free Expression Law of 1977 in asking Jordan about how she would interact with student journalists if elected to the school board. Jordan responded that she'd like to have a good relationship with the student press, but stuck to her guns in criticizing the Campanile.
"That code also says that student publications and teacher advisors are required to maintain professional standards of journalism," Jordan said.
Jordan said the Campanile's coverage of the October 2016 sex assault didn't meet that standard.
Jordan went on to tell McNealis that "press freedom is not absolute" and that the press is "not permitted to libel someone."
The debate provided an opportunity for the public to hear from Jordan, three other newcomers, Stacey Ashlund, Shounak Dharap and Alex Scharf, and incumbent Ken Dauber.
Dauber, who is running for his second term, has served on the board during a tumultuous four years for the district, including high administrative turnover, investigations by the Office for Civil Rights and documented mishandling of campus sexual assaults. But Dauber said he felt the board had made "tremendous progress" during his term in hiring strong leaders and in making strides to bolster resources for student mental health.
Dauber also said he rejected the notion that student wellness and academic achievement are at odds, stating that healthy, well-rested, happy students are good learners. He touted the elimination of zero period at Gunn High School so that students have a chance to sleep in and said that he wants to see homework loads reduced in order to manage student stress.
Ashlund, a software consultant, special education advocate and leader on the district-wide PTA council and Partners in Education, said that the campus wellness centers that have been touted as a response to the district's high school suicide clusters in 2009 were just a start.
Ashlund also said the high turnover in district administrators over the last few years was both necessary and unfortunate, and that she would make sure that parents, volunteers, school board members, teachers and administrators were "supporting one another to prevent this amount of turnover."
Dharap, a 28-year-old attorney and Gunn High School graduate, said he would bring a fresh voice to the board backed by his professional experience. Dharap, who graduated just before Gunn's suicide clusters in 2009, raised concerns about the mental health impact of weighted GPAs last year.
He also said he thinks the district's new comprehensive sex education will be a positive step in preventing future incidents of sexual harassment and assault. He praised the board's recent decision to hire an in-house attorney.
Scharf, a 21-year-old Palo Alto High School graduate and Foothill College student, said he wanted to see more vocational classes in high schools and more resources provided to disabled and low-income students.
Jordan is a former professional tennis player and Stanford graduate who began attending board meetings last year, after it became known that the district had mishandled two campus sexual assaults.
Jordan said that if elected, she would fight to protect tax dollars, work toward transparency and accountability and make sure students come first.
A sixth candidate on the ballot, Christopher Boyd, did not appear at the debate and has not granted an interview with the Post or any other news outlet.