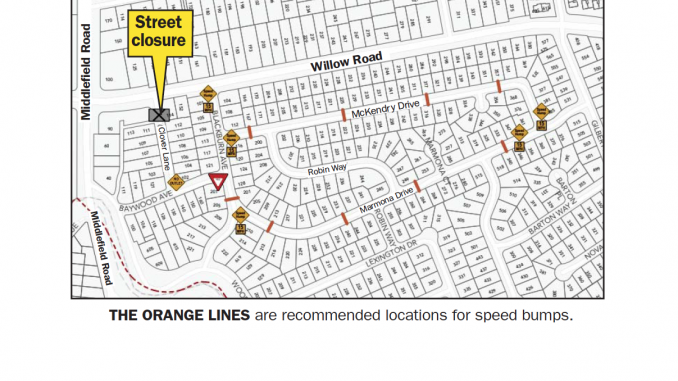 BY EMILY MIBACH
Daily Post Staff Writer
Residents of the Willows, which is often plagued by cut-through traffic by drivers avoiding Willow or Middlefield roads, may be getting a reprieve if the Menlo Park City Council tonight (Sept. 11) approves plans to add speed bumps and create a dead end in their neighborhood.
A group of 139 residents in the area between Willow Road and Marmona Drive petitioned the city to install nine speed bumps on Blackburn Avenue, Marmona and McKendry drives and to close Clover Lane to traffic coming from Willow Road.
In the petition turned into the city, residents said people have been speeding through their neighborhood.
Originally, there had been plans to put one speed bump on Baywood Avenue.
However, residents from Baywood asked the city to not not place one on their street, according to a report from Associate Transportation Engineer Rene Baile.
The project will consist of:
•A yield sign being installed at Baywood and Blackburn avenues,
• A closure of Clover Lane at Willow Road except for bicycles and pedestrians and a No Outlet sign being installed at Clover Lane and Baywood Avenue,
• One speed bump installed on Blackburn Avenue,
• Four speed bumps on McKendry Drive,
• Four speed bumps on Marmona Drive and
• Three "Speed Humps Ahead" and 15 MPH speed limit signs.
Baile is recommending that the council tonight (Sept. 11) approve the project as a six-month pilot program, and if the residents report that the speed bumps and closure of Clover Lane is working for them, then council can vote to make it permanent.
The project will cost $115,500, Baile's report says.