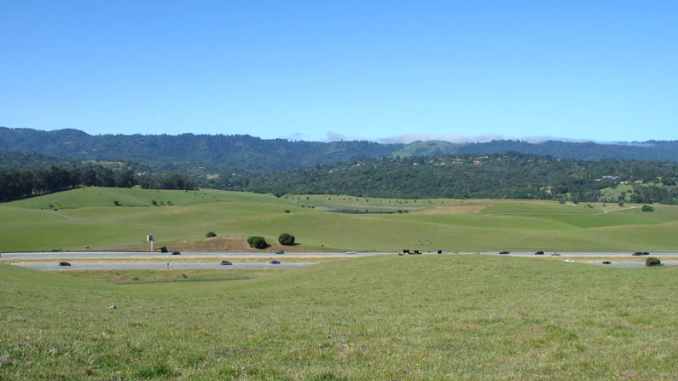 Editor's note: This story has been corrected to eliminate an inaccuracy regarding how the Academic Growth Boundary could change.
BY ALLISON LEVITSKY
Daily Post Staff Writer
Stanford could nearly triple the amount of development on campus over the next 100 years without expanding into the foothills, according to a new study by a consultant for Santa Clara County.
The Stanford University Sustainable Development Study Supplement, set to be released to the public today, shows that Stanford could theoretically go from its current 15 million square feet to 44 million while keeping its facilities east of Junipero Serra Boulevard.
The 44 million number uses a growth rate similar to Stanford's current rate of development as well as that of comparable universities.
The Arboretum, Lake Lagunita and the Oval would be maintained, according to Santa Clara County Board of Supervisors President Joe Simitian.
What's ahead for Stanford?
The study intended to answer the question of what is the maximum that can be built on the academic portion of Stanford's lands.
It comes as the university seeks the county's permission to expand by 2.3 million square feet through 2035, or about 200,000 square feet per year.
The last time the county signed off on a 4.8-million-square-foot expansion in 2000, the Board of Supervisors established the Academic Growth Boundary to prevent Stanford from developing the foothills.
The boundary, roughly Junipero Serra Boulevard, cannot be changed without a supermajority vote on the five-member Board of Supervisors. In other words, four votes are needed to change the boundary.
However, that four vote requirement drops to three votes in 2025.
Stanford's application for a 2018 General Use Permit to expand does not extend the term of maintaining that boundary of development.
Simitian said Stanford wants to preserve its right to expand. The new study, he said, "makes plain the fact that there is no need to go beyond the Academic Growth Boundary and develop up into the foothills under any conceivable scenario, over any foreseeable period of time."
The study doesn't recommend that Stanford triple its density, Simitian emphasized. It simply shows that the university can continue expanding at a rate comparable to similar institutions across the country without needing to develop the foothills.
Stanford asks for a development agreement
Stanford has also asked if it could negotiate a development agreement with the county, which Simitian said could offer more room to negotiate for better mitigation of the impacts Stanford's expansion would have on housing and traffic for surrounding cities.
The county is also considering charging Stanford a fee for its housing impacts and passing an inclusionary zoning ordinance that would require the university to build affordable housing on or near campus.
Stanford used a development agreement in Redwood City.
Simitian said Stanford isn't "wild" about the housing fee or zoning ordinance and wants a development agreement instead.
"I'm open-minded about what tool or bundle of tools we use, but where I always end up landing is as long as it provides full mitigation," Simitian said. "There's an obvious concern about this, which is: is there a way to do a development agreement that doesn't shut the public out of the process?"
Timetable
The county is set to publish the final environmental impact report of the proposed expansion in early December, with a county Planning Commission study session planned for January. The Board of Supervisors will hold public hearings on the proposal between February and April.