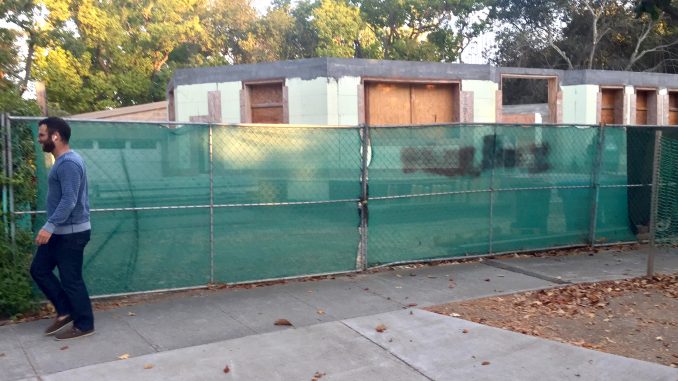 BY ALLISON LEVITSKY
Daily Post Staff Writer
The city of Palo Alto is threatening to levy at least $77,000 in fines against the owners of a house that's been under construction for 11 years, a project that has distressed neighbors who think it's an eyesore.
The house at 1693 Mariposa Ave., next to Peers Park in the Southgate neighborhood, was torn down in 2007, according to the history website Palo Alto Stanford Heritage.
Since then, a slow construction job has tested the patience of neighbors, who say it's ugly and possibly a dangerous place where kids can trespass.
"We will do everything within our authority, and if we don't have enough, we'll look at future authority to take firm action on this property," City Manager Jim Keene said at Monday (Aug. 270 night's council meeting. "This has gone on way too long."
Keene said the city had presented a contract to the house's owners last week demanding that the work proceed, and identifying at least $77,000 in penalties. The city has successfully used a similar method at a home on Cowper Street, he said.
"'A state of incomplete construction' would be a generous description of the property," Keene said.
The owners
Neighbors said Randy Feriante, the founder of a Menlo Park roofing and solar company, owns the house. Feriante's 42-year-old son Jarom lived in the house with his ex-wife before it was torn down 11 years ago.
Randy founded Dura-Foam Roofing and Solar Center in 1981, where Jarom serves as CEO.
The Feriantes didn't return multiple requests for comment.
Former Mayor Gail Woolley says the ongoing construction violates two city ordinances passed in 2014 and 2016. Ordinance 5227, which passed Jan. 13, 2014, penalizes construction applicants who don't renew their applications within 30 days of expiring.
Ordinance 5889, which was passed in 2016, set a four-year time limit for the issuance of a final inspection at a project.
Stop work order
In May, neighbors contacted the city's chief building inspector, who posted a stop work order at the site.
"Eleven years is enough. It's time to act," said Tom Vlasic, a Mariposa Avenue resident. Vlasic calculated that the city could fine the Feriantes $150,000, about twice what Keene proposed at council.
Linda Schilling, lives across the street from 1693 Mariposa and called the construction project "11 years of blight."
"This has been going on for quite a long time. I'm very heartened to hear that the city manager has taken a renewed and intense interest in this problem now," Schilling said.
Jim McFall, an architect who lives near the house on Escobita Avenue, said the house's raised concrete floor over a basement and unusual roof system would make it a complicated project to complete.
Woolley lives next door to the house and said the Feriantes have also let another house they built languish at 628 Maybell Ave.
That house, which sits empty next to Juana Briones Elementary School, was started two years before the project on Mariposa and includes three domes.
"Our concern is simply the house on Mariposa is the same construction. It also has domes, three domes, and we're worried and concerned that if the dome on this house doesn't work, what's going to happen with the next one?" Woolley asked.