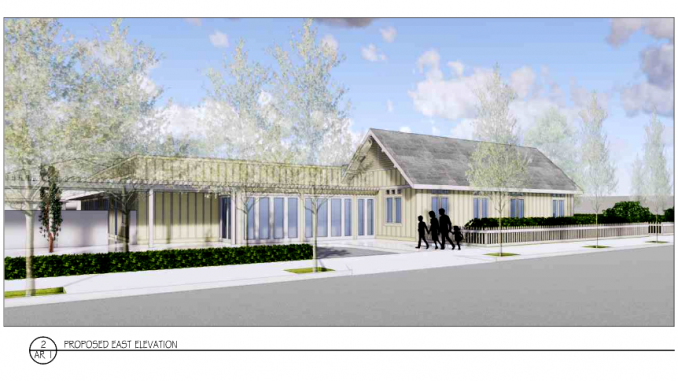 BY ALLISON LEVITSKY
Daily Post Staff Writer
Former Yahoo! CEO Marissa Mayer is seeking to convert a former Palo Alto funeral home into a private club for working women.
Mayer bought the building that had housed Roller Hapgood and Tinney at 980 Middlefield Road in 2013. The mortuary had been in operation for 114 years.
Now, Mayer wants to renovate the building and rename it the Corner House on Addison. She wants to hold classes, workshops, events and "collaborative spaces" there. Most classes, workshops and events would be open to the public, but some would be for members only.
Mayer, a Palo Alto resident, submitted an application to renovate the building on April 16.
"The mission of the facility would be to provide a vibrant, welcoming space for traditional and nontraditional professionals to collaborate, work, learn, find support, build community and spend time with their families, friends and neighbors," an application reads.
Specifically, Mayer wants to cater to working women, especially mothers, seeking balance between work and family.
"While not excluding any groups or individuals, the majority of programming will be of interest to mothers, children and families," the application states.
The Corner House would seek to support working moms with "thoughtfully designed workplace accommodations" for working parents, including freelancers, writers, artists, entrepreneurs, consultants, or those who work remotely.
The club would provide groups and programs to help the professional development of working women and accept and accommodate nursing mothers, the application states.
Amenities would include co-working tables and desks, conference rooms, presentation spaces, workshops, classes and lectures on culture, art, musical education, literature, visual and performing arts, cooking, professional development and health.
It would also be rented out as a venue for private and special events for nonprofits and alumni associations.
The building would include rooms that would be used as classrooms or meeting spaces, a kitchen, administrative spaces, a fitness room, playground, atrium, patio and garden.
The club would also offer a coffee bar in the morning, a lunch buffet, snacks and event catering.
City Council is set to review the application for a "pre-screening" on Sept. 10 where no vote will take place, but council members will offer their opinions about the project before it goes into the city's application process.