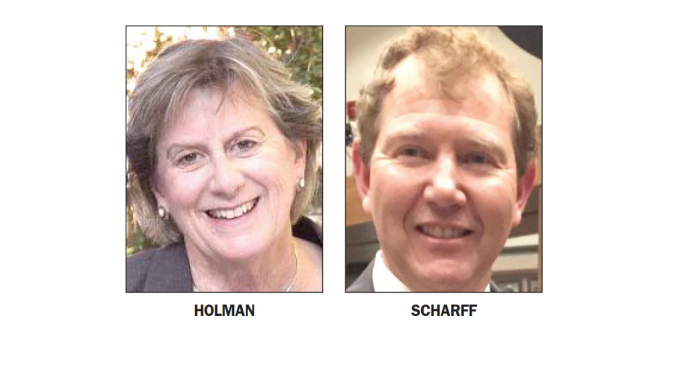 By the Daily Post staff
Another Palo Alto council member, Greg Scharff, is running for the seat Nonette Hanko is vacating on the Midpeninsula Regional Open Space Board. He will face Karen Holman, another council member. Both are leaving the council in December due to term limits.
Scharff and Holman have been on opposite ends of the council spectrum, with Holman on the slow-growth side while Scharff has favored more housing and development.
The deadline to file for the open seat on the open space board is today at 5 p.m.
School board
The unofficial candidate list shows a sixth candidate is entering the Palo Alto school board race, where two seats will be up for grabs in November.
Incumbent Terry Godfrey has decided not to seek a second term, but the other incumbent Ken Dauber is running again.
The previously announced candidates include special education advocate Stacey Ashlund, 21-year-old Gunn graduate Alex Scharf, attorney Shounak Dharap and district critic Kathy Jordan. The new sixth candidate is Christopher Boyd. The Post has no information about Boyd at this time and is attempting to contact him for comment.
Palo Alto City Council
Hours before the deadline, the line up for the three open seats on Palo Alto council remains unchanged from last week, with incumbents Eric Filseth, Tom DuBois and Cory Wolbach facing challengers Alison Cormack and Pat Boone.
Open Space District
The open space district is led by a seven-member board of directors. The directors are elected by district. In the November election, the seats for District 1, 2, 5 and 6 are up for grabs.
Hanko, who served on the board since its inception in 1972, has represented District 5, which covers East Palo Alto, Menlo Park, part of Palo Alto and part of Stanford.
District 2 — covering another section of Palo Alto, Los Altos, Los Altos Hills, Sunnyvale, Cupertino, a portion of Stanford — is represented by former Palo Alto Councilwoman Yoriko Kishimoto. Nobody signed up to run against her in November.
District 1 represents Cupertino, Los Gatos, Saratoga and Monte Sereno. Incumbent Pete Siemens, a former Los Gatos councilman, will face Mike Buncic, a biology teacher who lives in Los Gatos.
In District 6, incumbent Larry Hassett, a La Honda resident, will face Portola Valley architect Carter Jensen Warr. The territory for District 6 includes Atherton, La Honda, Loma Mar, Menlo Park, Pescadero, Portola Valley, Redwood City, San Gregorio and Woodside.
The other directors, whose terms are not up this year, are Jed Cyr (Ward 3), Curt Riffle (Ward 4) and Cicily Harris (Ward 7).