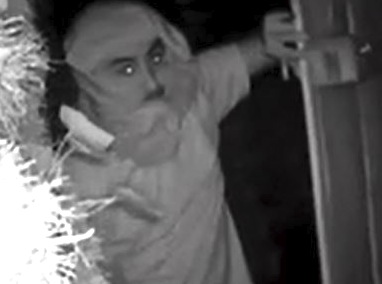 By the Daily Post staff
Palo Alto police are looking for this man who was caught on home surveillance video peeping into a bedroom window of a home in the 100 block of Waverley Street.
It happened last Wednesday night, July 11, at about midnight.
The 100 block of Waverley is the block closest to San Francisquito Creek on the north end of Palo Alto.
At about 11:50 p.m., a resident received an alert from their security camera of movement in his backyard. When checked the surveillance footage, he saw that a guy had entered his yard through a closed gate and peered into an occupied bedroom for several minutes. Then the guy left on foot.
Police said the video appears to depict a Caucasian or Hispanic male, in his early 20s with dark thick eyebrows and a mustache. The suspect had a light colored shirt wrapped over his head and was wearing baggy shorts with stripes on the side.
Anyone with information about this incident is asked to call police at (65) 329-2413. Anonymous tips can be e-mailed to paloalto@tipnow.org or sent via text message or voicemail to (650) 383-8984.