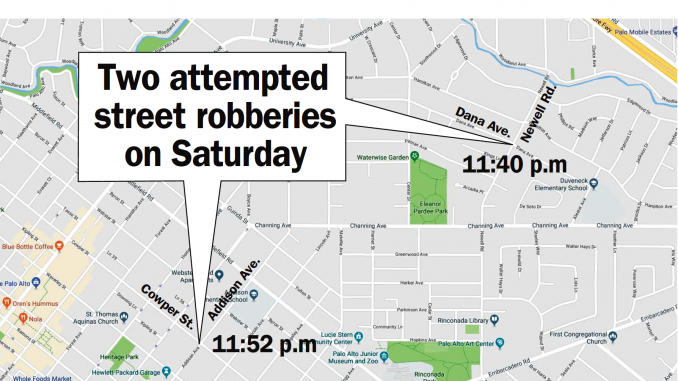 By the Daily Post staff
Police said today (July 9) they're trying to determine if two attempted street robberies in Palo Alto are related.
On Saturday (July 7) at 11:40 p.m., police dispatchers received a call of an attempted street robbery in the 600 block of Newell Road. The victim, who is in his 50s, was able to get away. When an officer arrived at his home, the victim reported he had been walking near Newell Road and Dana Avenue when a man who had his face covered with a black cloth told him to give up his wallet. According to the victim, the man put his hand in his pocket and pulled out an unknown black object. The victim reported he did not think it was a gun. The victim refused to give up his wallet and walked away. The suspect then left.
Then, at 11:52 p.m., another attempted street robbery occurred a mile away, at Cowper Street and Addison Avenue. The victim in that case, who is also in his 50s, reports a man wearing a dark cloth over his face came up from behind him and demanded property. The victim reported the man acted as if he had a weapon because he had his hand in the waistband of his pants. The victim ran away and saw the suspect get into a black SUV which traveled southbound on Cowper towards Embarcadero Road.
Both victims were uninjured and nothing was taken from them. The suspect in both cases is described by the victims as a Hispanic male in his 20s, about 5 feet 10 inches tall with a medium build.
Detectives are investigating whether the attempted robberies were committed by the same man or different people. Police said they have not received any recent reports of similar attempted street robberies.
Anyone with information about these incidents is asked to call police at (650) 329-2413. Anonymous tips can be e-mailed to paloalto@tipnow.org or sent via text message or voicemail to 650-383-8984. Tips can also be submitted anonymously through a free mobile app, downloadable at www.bit.ly/PAPD-AppStore or www.bit.ly/PAPD-GooglePlay.