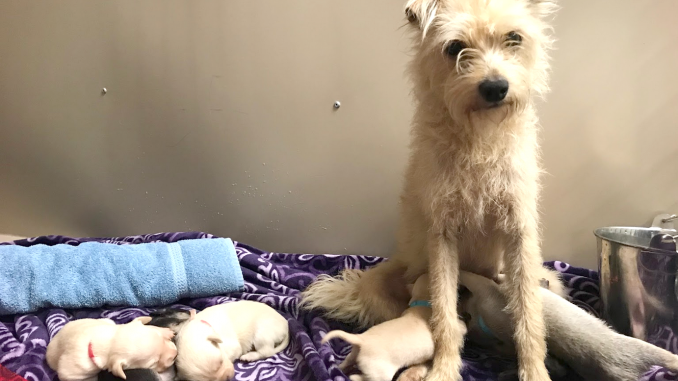 Things are looking up for six homeless newborn puppies and their mother who were found in East Palo Alto in April, thanks to members of the public and a San Mateo animal shelter.
The saga began when a Good Samaritan encountered a starving stray dog in East Palo Alto April 17, according to Buffy Martin Tarbox, a spokeswoman for the Humane Society. The man and his friends were on a lunch break when the stray stole a piece of pepperoni pizza from them.
The man called the Humane Society, which quickly sent rescue staffers. When the rescuers arrived, they determined that the small, hungry female terrier mix had just given birth. Sure enough, the mother dog led them to a nest with six tiny week-old puppies, Tarbox said.
"The mother dog was malnourished, and if we hadn't found her, it's unlikely she and her pups would have survived," Tarbox said in an interview.
"This poor little dog was struggling to survive on her own, eating whatever scraps of food she could find and trying to take care of her babies," according to Tarbox.
The Humane Society found a temporary foster home for the mom and six puppies, all of whom are now healthy and thriving, according to the spokeswoman. The now-two-month-old pups have been weaned and are ready for adoption, Tarbox said.
The mother dog has been named Queen Elizabeth.
One of the pups has been adopted, as well as the puppies' mother, the spokeswoman said — with five pups to go. People interested in meeting the puppies can visit the shelter at 1450 Rollins Road or call at (650) 340-7022.
— Bay City News