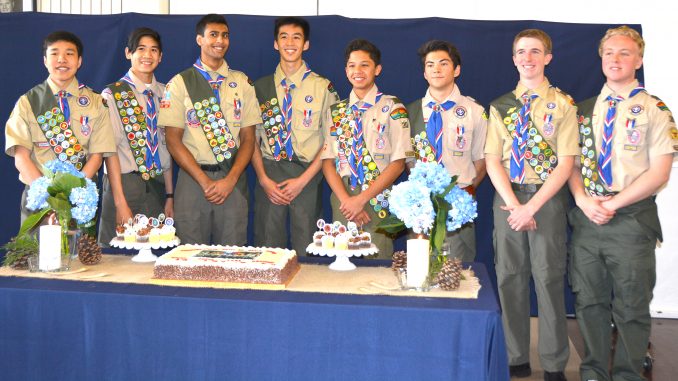 Eight Boy Scouts from Troop 30 of Los Altos have achieved their Eagle rank. Their promotion to Eagle rank on May 20 followed years of work on leadership, community service and personal development. Reaching the Eagle rank requires a substantial final project, completed with help from other Scouts. Consistent with the Boy Scout principle "to help other people at all times," the project must benefit the community. Eagle Scouts have sometimes gone on to become presidents, astronauts and business leaders.
Helping autistic children
Eric Mow held an Autism Awareness Day at Parents Helping Parents, a non-profit for parents with special needs children.
This included the screening of a documentary about the journey of kids with autism pursuing competitive swimming. He also donated child-friendly "sensory bins" for use in the playgroups.
Enhancing student performances
Andrew Shieh created 17 new portable display screens for Fairmeadow Elementary School in Palo Alto. These screens are used as backdrops for student-run performances, such as plays or musicals. The seven old backdrops were barely holding together and also too large to be efficiently moved, set up and stored.
Teaching basketball
Arjun Singla designed, organized and ran a basketball camp for sixth-, seventh- and eighth-graders. The camp took place over a weekend for three hours each day and was attended by 16 kids.
He created the schedule, drills and roster, and did the marketing. He also recruited his basketball teammates to help with coaching.
Fixing tools for workers
Gage Rodriguez gathered and refurbished dozens of old work tools to donate to the Day Worker Center of Mountain View. These included pickaxes, shovels, hammers, screwdrivers, and even a wheelbarrow. Workers can now perform many more jobs, and the old tools won't end up in landfills.
Historical airplanes
Brian Chao designed a computer application for the Moffett Field Museum at 126 Severyns Ave. in Mountain View and stocked the application with details on more than 50 historical airplanes. His new software has a touchscreen interface, allowing guests to have an interactive learning experience.
Repairing school's garden
Ryan McCauley renovated a garden for a preschool after a car crash caused substantial damage. He built new redwood vegetable planter boxes that include benches, refurbished the damaged ones, and relocated water plumbing to a more central place. This garden offers students fun, learning and environmental awareness.
Beautifying museum's grounds
Braydon Ross re-landscaped one side of the Moffett Field Museum, including terracing and installing a much-needed new French drain. His project helps to provide a beautiful and welcoming appearance for visitors. Braydon organized a live jazz performance outside the local Safeway to raise funds.
Protecting nature preserve
Aidan Slusser built a split-rail fence for Redwood Grove Nature Preserve in Los Altos. The 100-foot-long fence, made of red cedar wood, travels along an existing pedestrian path through the park. The fence keeps park visitors on the proper path and out of the nature preservation zones, protecting native plant species and preventing erosion.