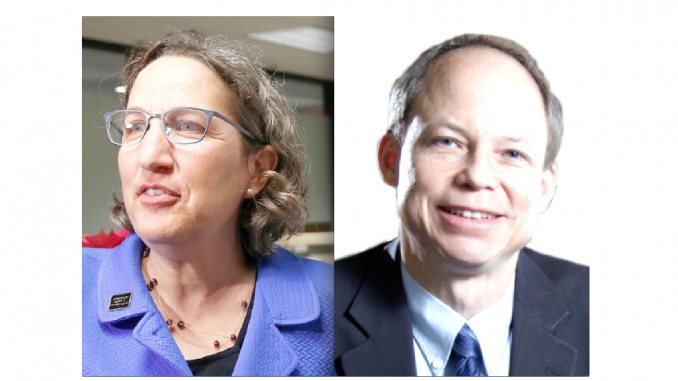 Campaigns for and against the recall of Santa Clara County Superior Court Judge Aaron Persky held dueling rallies in San Jose today (May 30) in the wake of recent controversial comments by Persky's campaign lawyer and spokesman about the victim in the case that brought the judge national notoriety.
This morning, Recall Persky chair Michele Dauber and fellow campaign supporters gathered outside the McManis Faulkner law office to call on the judge to condemn comments by lawyer Jim McManis that appeared in Vogue last week about the victim in the case of former Stanford swimmer Brock Turner.
In the article, McManis said Emily Doe was not attacked, despite Turner's conviction for sexual assault of the woman after a party in 2015. Persky handed down a six-month jail sentence to Turner, a term that many people thought was too light.
McManis also said that the victim impact statement Doe read in court, which became a national viral sensation, was not in fact written by her.
Recall campaign supporters feel as though McManis' statements were an attempt to again silence the victim and called on Persky today to repudiate the comments.
Two police officers responded to the rally after a man came over with a sign and repeatedly approached the protesters in front of McManis' law firm and attempted to talk over them to news cameras.
San Jose Vice Mayor Magdalena Carrasco was speaking when the man, who later identified himself as Steve White, approached her and tried to use the microphone to describe his belief that Dauber has lied about several points of the Doe case.
"As a mother of four, three girls and one young man, I am doing everything that I can to make sure that they are not committing crimes and that we are taking people out of elected office that do not stand on the right side of history," Carrasco said.
White later said that his issue with the recall campaign does not have to do with sexual violence, but with restraining orders, which he believes are "given out like water."
White called himself a "victim" of what he claims was a fraudulent restraining order in the past when someone stated that he had threatened to harass them and "make their lives hell."
This afternoon, Persky and opponents of the recall held a news conference outside of at the County Government Center in San Jose. The group discussed the campaign's main point: a recall may cause judges in the future to consider public opinion over the law.
Both Santa Clara County's District Attorney Jeff Rosen and Public Defender Molly O'Neal spoke on Persky's behalf about how he followed the law implemented in the county at the time of Turner's sentencing and how changes have been made to ensure those convicted with charges like Turner's will now be sent to prison.
Persky did not discuss any of McManis' comments but said he was surprised how much fallout came from the Turner decision.
He said judges should accept criticism but should focus "laser-like" on the law and tune out the negativity.
Persky said if people did their research and spoke to attorneys that appeared in his courtroom or those in family law courts, where he presided for two years, he would be open to hearing their take on his decision-making.
He said he hopes voters do their research and read the ballot before accepting the "Twitter version" of the Turner case and others he has been questioned about.
When asked about why Persky has strived to keep his seat through all the criticism from the recall campaign, he said most of the motivation came from trying to do right by his two sons.
"I don't think that I could look them in the eyes and explain giving up," he said.
— Bay City News