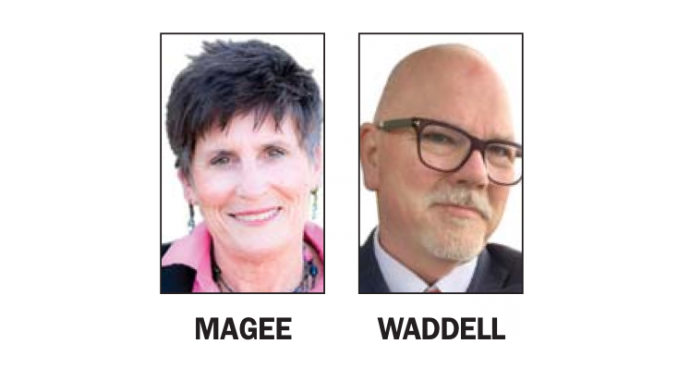 This story was originally published on May 26.
BY EMILY MIBACH
Daily Post Staff Writer
The race for San Mateo County superintendent of schools is tight, with just $6,000 in fundraising separating the two candidates 10 days before the June 5 election.
Nancy Magee, the associate superintendent of student services, has a slight edge on Deputy Superintendent of Instruction Gary Waddell.
Magee has raised $122,112 since launching her campaign last year, and Waddell has raised $115,864 in the same time frame. Magee has received money from Burlingame lawyer Joe Cotchett ($1,000), Sheriff Carlos Bolanos ($250), San Mateo Councilman Rick Bonilla ($800), County Coroner Robert Foucrault ($100), San Mateo Police Chief Susan Manheimer ($450), San Carlos Councilman Mark Olbert ($250), former County Supervisor Adrienne Tissier ($250), former state member Gene Mullin ($100), County Supervisor Don Horsley ($500) and San Mateo County District Attorney Steve Wagstaffe ($300).
Magee has endorsements from Horsley, Tissier, former county supervisor John Ward, Redwood City Mayor Ian Bain, Burlingame Mayor Michael Brownrigg, San Carlos Mayor Bob Grassilli and Menlo Park Mayor Peter Ohtaki, among others.
Waddell's supporters Waddell has also racked up local endorsements and funds.
He's received money from Assemblyman Kevin Mullin ($1,000), Belmont Councilman Charles Stone ($250), state Sen. Scott Wiener ($250), Redwood City Councilwoman Shelly Masur ($100), former county supervisor Tom Huening ($250), San Mateo County Community College Trustee Karen Schwarz ($150), Ravenswood City School District Superintendent Gloria Hernandez-Goff ($250), as well as $7,675 in contributions from former county superintendent Jean Holbrook.
Waddell also has endorsements from Congresswomen Anna Eshoo, D-Palo Alto, and Jackie Speier, D-San Mateo, former assemblyman Rich Gordon and assemblymen Marc Berman and Evan Low.
Waddell, 54, received his doctorate in school leadership, a master's in school counseling and an educational specialist degree in school administration, all from Western Carolina University in North Carolina.
He earned his bachelor's in drama from the University of North Carolina at Asheville. Waddell, who is gay, lives in Pacifica and used to be a foster parent for teens with emotional and behavioral disabilities. He is also a board member for a community theater.
Magee, 58, has worked for the county for seven years. Before that, she was an emergency management director for a school district in San Diego and a high school English teacher for 20 years. Magee received her teaching credential and bachelor's in English from San Diego State and got her master's in library and information sciences from San Jose State. She lives in Half Moon Bay. Magee is gay and has two adult sons.