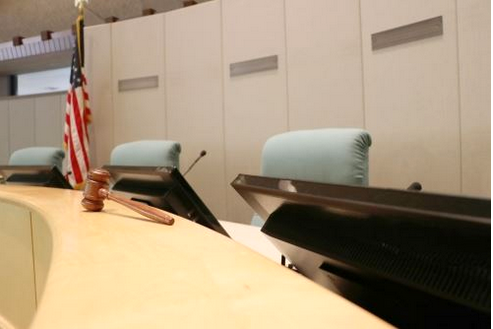 BY EMILY MIBACH
Daily Post Staff Writer
The proposed new library at Burgess Park in Menlo Park may also contain new council chambers.
Billionaire John Arrillaga, who has offered to fund the majority of the estimated $58 million new library, said he would be open to adding to the construction cost in order to add a multipurpose room where the council could conduct business, City Manager Alex McIntyre said.
The city would have to come up with $20 million of the cost of the library.
"Our council chambers sits empty all the time, and it's a waste of real estate," McIntyre said yesterday, pointing out that it's primarily used every other Monday for the city's planning commission and on Tuesdays for council.
At council's meeting on Tuesday (May 22), when the library project was discussed, architect Chris Noll said if the council chambers at 701 Laurel St. was demolished, the site could be used for a park where farmers markets and other events could be held.
The council was supposed to decide whether the library should be replaced at its current site at 800 Alma St. or be relocated next to the council chambers, but the decision was delayed due to the late hour of the meeting.
A discussion of where the Burgess Park library should go, its funding, the city's next steps and an assessment of what should be included in a new Belle Haven library will be discussed at a meeting likely to be held in July.