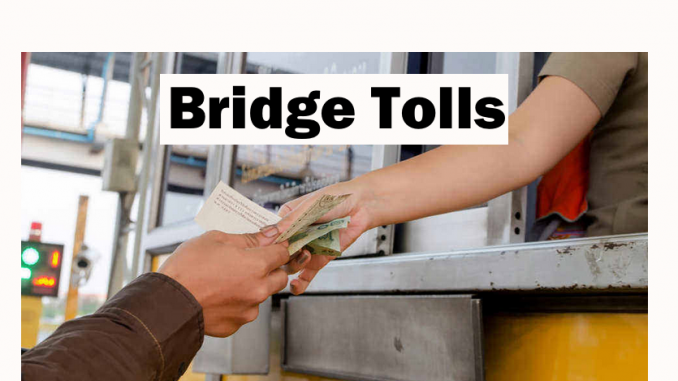 BY EMILY MIBACH
Daily Post Staff Writer
Some of the biggest employers in the Bay Area, including Facebook and Google, are throwing their weight behind Regional Measure 3, which would raise bridge tolls to as high as $9 to pay for transportation projects.
Facebook has donated $375,000 to the RM3 campaign, while Google has donated $50,000, according to finance forms filed with the Santa Clara County Registrar of Voters. Overall, the campaign has raised $2.7 million.
Other donors include: Salesforce ($125,000), Genentech ($25,000), Kaiser ($250,000), Sobrato ($50,000), Dignity Health ($125,000), Barry Swenson Builders ($25,000), Paypal ($10,000), PG&E ($25,000), State Assemblyman Jim Beall ($60,000), Adobe ($30,000), Lockheed Martin ($10,000), El Camino Hospital ($15,000), Recology's PAC ($10,000) and BART Board Director Nicholas Josefowitz ($150,000).
While big-time employers are backing the tax, it's possible their employees will be paying the higher tolls.
Mountain View Mayor Lenny Seigel is against the toll hike, saying big employers are "trying to externalize their transportation costs," by passing them on to their workers and the general population. "Some of us believe that the right way to pay for transit is to tax the employers bringing traffic to the area," Siegel told the Post on April 22. "We're paying for the cost of having a lot of people work at our tech companies, and I'm not angry at them, but that's an argument for funding transit from the companies that are growing."
Santa Clara County Supervisor Joe Simitian also opposes the toll hike. He said on April 22 that the toll is "a bridge too far," pointing out that Santa Clara County voters raised their sales tax by a half-cent in 2016 for transportation projects, and the Legislature raised the gas tax by 12 cents a gallon. Simitian said he favored both of those increases.
No organized opposition
While Simitian and Seigel oppose the tax, there is no campaign committee campaigning against the tax. But North Bay resident David Schonbrunn says that the camps of RM3 opposers throughout the Bay are in contact, and working together. But as far as not having a campaign committee, Schonbrunn says it's because no one in the anti-RM3 camp volunteered to start one.
"There are grassroots groups," Schonbrunn said. "We're all fighting uphill and it was just more than we could manage," Schonbrunn said.
Schonbrunn's blog occupymtc.org, which is dedicated to anti-RM3 literature, lists local Republican and Libertarian groups, along with the Coalition for San Francisco Neighborhoods and the Bay Area Transportation Working Group.
RM3 will appear on ballots in Santa Clara, San Mateo, San Francisco, Alameda, Contra Costa, Solano, Sonoma, Marin and Napa counties, and would pass with a simple majority.
The money would be used to finance $4.5 billion in highway and transit improvements over 25 years.
The increased will bring in $60 million annually.
If passed, the toll would go to $9 on the Bay Bridge by 2025 and $8 on other bridges including the Dumbarton and San Mateo. Those improvements include new BART cars, extending BART to San Jose and Santa Clara and extending Caltrain to downtown San Francisco, expanding Muni's transit vehicle fleet in San Francisco, more frequent ferries and trans-Bay buses, interchange improvements in the East Bay, more highway express lanes, a direct freeway connector from northbound Highway 101 in Marin County to the Richmond-San Rafael Bridge and extending the new SMART rail system to Windsor and Healdsburg.