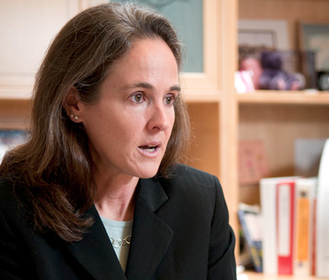 BY ALLISON LEVITSKY
Daily Post Staff Writer
One of the few ways that mid-Peninsula residents interact with the Santa Clara County Sheriff's Office — other than visiting the Palo Alto courthouse or being hauled to jail in the South Bay — is the Stanford Department of Public Safety, which is staffed by deputies and overseen by a sheriff's captain.
Sheriff Laurie Smith grants the department law enforcement authority, but Stanford appoints the chief and the deputies.
Because the campus police also answer to Stanford, Smith's relationship with the department can be combative.
"I know when a captain's doing a good job up there because (Chief Laura Wilson) is really angry with me," Smith told the Post. "We've gone toe to toe several times… The more we push them, the more angry she becomes."
Smith said she sits on a Stanford panel to appoint the chief, but that her approval is tacit.
The sheriff's office tries to protect its authority and ensure policing is done properly at Stanford by having a captain oversee the operation, which Smith said was Board of Supervisors President Joe Simitian's idea.
A self-policing institution
Simitian has questioned the appropriateness of allowing a private institution police itself, asking Smith why not let Hewlett-Packard have its own force?
"It's unusual to give your peace officer authority to someone that you don't directly manage, but it's one of those systems that has existed," Smith said. "I think that having the relationship that we have is not the ideal situation for (Wilson)."
Stanford has been policed by deputized officers since the 1970s. Smith said she thought it would be better to treat Stanford like Cupertino, Saratoga, Los Altos Hills or VTA, which pay the sheriff's office for police services rather than running their own police departments.
"I actually thought about going to county counsel and just saying, this is an awkward position to be in. I question the legality of it," Smith said.
Keeping crime from the public
She's also criticized Stanford for its slow release of crime information, including the 2015 arrest of Stanford graduate student Xiangyu Ouyang for allegedly poisoning her lab mates' drinks with paraformaldehyde at Stanford's School of Medicine.
The media learned of her arrest months later when she was in court. The Stanford Department of Public Safety did not release any information about her arrest.
Occasionally, the campus police have deferred to the PR department to release information about campus crime.
In February, the police department declined to release any information about an envelope of white powder sent to Stanford law professor Michele Dauber, referring the Post to university PR for information about the situation.
Stanford police release annual crime statistics in accordance with the Jeanne Clery Disclosure of Campus Security Policy and Campus Crime Statistics Act of 1990. The university's PR representatives have pointed to the Family Educational Rights and Privacy Act as a reason for the university's need to withhold some information about campus crime involving students.
Sex assaults
In the case of campus sexual assault, Wilson pointed out that some victims are wary of reporting to police because of the department's legal obligation to publicize information about the date, time and location of the attack.
Some information can identify the victim, like the city block of the attack's location, which is often a dorm.
Smith said the university has a "big motivation" to address violent crimes internally and keep the case out of the public eye.
Smith said her office had tried to improve the release of information from Stanford police.
"We push really hard to make sure that we see it. I'm not so sure things don't get circumvented before they even get to the Stanford deputies," Smith said. "If it doesn't get to the police department, we'll never know."
Smith's opponents in the June 5 race also weighed in on Stanford's relationship with the sheriff's office.
Smith's former second-in-command and chief of the jail, John Hirokawa, said Smith's relationship with Wilson and the Stanford police was "not as collaborative as it should be," and that rank-and-file employees are generally too intimidated by Smith to speak out.
Joe LeJeunesse said that if elected, he would make Stanford more transparent by ordering the captain at Stanford report to him on a daily basis.
"If you don't know what's going on in your department, you shouldn't be in charge," LaJeunesse said. "There's not enough candor with the sheriff because she does retaliate."
'Dumping ground'?
LaJeunesse also claimed that Smith has retaliated against those who cross her by assigning them to jobs at Stanford or the coroner's office until it split off from the sheriff's office in 2016, but Smith denied the accusation.
"It's not a dumping ground at all," Smith said. She said that often, employees want to work at Stanford for personal reasons, like in the case of a former captain whose child was being treated for an ongoing illness at Stanford Hospital.
Jose Salcido, a retired lieutenant and former head of the Deputy Sheriffs' Association union who is challenging Smith for her seat, pointed out that the university is very powerful.
"It's all about liability. Even a university who has deep pockets has to think about liability," Salcido said.