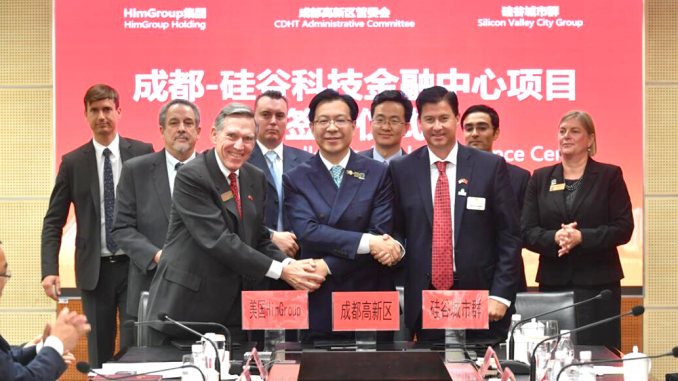 BY EMILY MIBACH
Daily Post Staff Writer
Mountain View Mayor Lenny Siegel said he felt that he and other local officials were used as "window dressing" during a trip to China to promote business ties with Silicon Valley.
After the trip, a photo circulated in Chinese media showing a signing ceremony featuring three mid-Peninsula political figures — Siegel, Menlo Park Councilwoman Kirsten Keith and former Mountain View councilman Mike Kasperzak. They were shown with Chinese officials.
The purpose of the ceremony in Chengdu, China was to sign a proclamation saying that Kasperzak's HIM Group Holdings would work with the Chengdu Hi-Tech Administrative Committee in Silicon Valley.
Kasperzak said his company would provide an incubator in Mountain View for Chinese startups.
Siegel said that he didn't sign any document, and neither did Keith or another Bay Area official on hand, Dublin Mayor David Haubert.
"In a sense they were taking advantage of us and our presence, but we didn't sign anything," said Siegel. Who paid? Siegel said the three elected officials' trips were paid for by nonprofit U.S.-Asia Innovation Gateway.
The nonprofit is funded by Huawei, a Chinese phone and networking company, Colliers International and other China-based companies, according to its website.
Siegel, Keith and Haubert did not go in their official capacities, but attended meetings with entrepreneurs and Chinese investors.
"We were akin to window dressing," said Siegel. "The people doing the discussions were the entrepreneurs looking for funding and we were there to make them look more important."
Siegel said he was not told that the entrepreneurs would be coming with them on the March 25-27 trip. He agreed to go to "see what's going on over there," saying he wanted to check out the massive amounts of building that is occurring in Chengdu, which is China's tech hub.