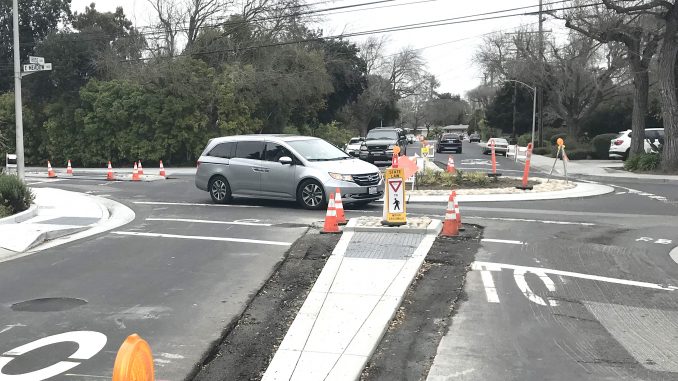 OPINION
BY DAVE PRICE
Daily Post Editor
If you think driving is more difficult in Palo Alto these days, it's not your imagination. In fact, it's intentional.
The city of Palo Alto is spending $8.7 million to install 11 roundabouts and make other changes to residential streets in an attempt to make things safer for bicyclists and pedestrians.
But this project's first roundabout at Ross Road and E. Meadow Drive has turned out to be a disaster.
Here's the problem: There are stop signs on all four sides of the intersection. You stop and then enter the circle, and spin to the street where you want to go.
In other places, the advantage of a roundabout is that you don't have to stop. You drive into the circle and exit where you want. No stop sign or stop light is needed. In fact, roundabouts have been used in some cities to replace stop lights.
The stop signs defeat the purpose of a circle. If you're going to stop and drive forward, why do you need the barrier in front of you?
(Update: After this column was printed, City Spokeswoman Claudia Keith told the Post that the stop signs at the roundabout are temporary. They'll be converted to yield signs when the work is finished.)
Residents livid
And understandably, drivers are confused. For instance, what do you do when you enter the circle and there's a pedestrian crossing the street you want to enter? You hit the brakes and clog up the circle for other cars.
People who live nearby are livid. They've started an online petition at change.org. As of yesterday, 650 people had signed it.
"This is not one resident complaining that they lost a parking space," the petition states. "This is dozens of neighbors trying to raise the alarm before an elementary school bike commuter is crushed by a minivan; before an ambulance is stranded on a concrete island; before another confrontation between two cars given no buffer passing each other in arbitrary constrictions."
The roundabout at Meadow and Ross is a taste of what's to come. Ten more roundabouts are planned:
• Bryant Street at Poe Street and Palo Alto Avenue;
• Bryant and N. California Avenue;
• Bryant and Loma Verde Avenue;
• Bryant and Kingsley Avenue;
• Ross Road and Moreno Avenue;
• Ross and Louis Road;
• Louis Road and E. Meadow;
• E. Meadow Drive and E. Meadow Circle;
• Amarillo Avenue and Greer Road;
• Bryant and Addison Avenue (conversion from a "traffic circle" to a full-blown roundabout).
How it happened
These roundabouts are the result of a very effective effort by the bicycling community to lobby city hall. The drivers who use these roads only started paying attention when the construction started.
And council approved a Bicycle & Pedestrian Transportation Plan back in 2012 that called for all these changes without thinking through the consequences.
Curb extensions
Another mystery about these changes are the curb extensions. We're told that they are intended to reduce speed by making drivers perceive the road to be narrower. People slow down on narrow streets. But the problem with these extensions is that they push bicyclists into the path of cars.
The city insists that the curb extensions only extend into what would be the parking lane, and that there's still enough room for cars and bikes to share the road.
Maybe. But to my untrained eyes, it looks like an accident waiting to happen.
The bicycle groups should be outraged at this.
Complaining, though, doesn't do a lot of good. Council received the online petition but approved only minor changes last Monday. Council members did nothing to stop the roundabouts. Hopefully it won't take a child's death to focus council's attention on the problems this project is creating. At the very least, it sounds like an issue for this fall's council race.
Editor Dave Price's column appears on Mondays. His email address is price@padailypost.com.