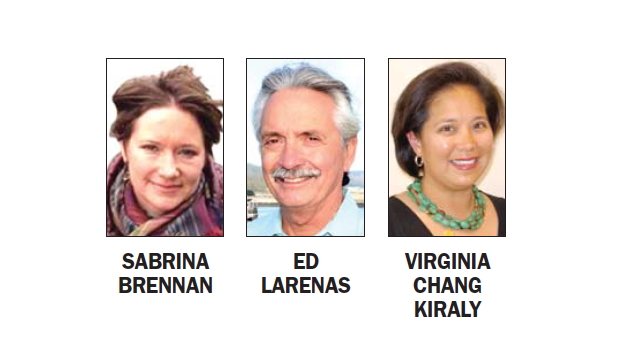 BY EMILY MIBACH
Daily Post Staff Writer
Two members of the San Mateo County Harbor District board say the countywide agency should have its members elected by districts or wards, but the board's president is questioning whether the district should be dissolved.
Commissioners Ed Larenas and Sabrina Brennan issued a statement yesterday (March 1) calling for the district to switch its elections system as a way to allow "lower-income people and people of color to run successful campaigns."
Currently, all five commissioners are elected countywide and can live anywhere in the county. By going to what's called by-district elections, the Harbor District would be divided into five wards, and each member of the commission would represent one ward.
Menlo Park is in the process of switching to district elections for its City Council. The San Mateo County Board of Supervisors, Sequoia Union High School District and the Sequoia Healthcare District have switched to districts.
If the five-member harbor board is divided into similar wards with the same borders as the five county supervisors, that would put four of the current commissioners, Larenas, Brennan, Virginia Chang Kiraly and Tom Mattusch, in the same district. All four live in Supervisor Don Horsley's sprawling District 3, which
covers much of the coast and part or all of a number of cities. Commissioner Robert Bernardo lives in Supervisor Dave Pine's District 1, which includes Burlingame and San Bruno.
Commission President Kiraly said yesterday that while she will place the item on a future harbor board agenda, the commission ought to take up whether the district should even exist.
"How is it that an East Palo Alto resident will benefit from the Harbor District?" Kiraly said, pointing out that the district really only affects Pillar Point in Half Moon Bay and Oyster Point Marina in South San Francisco.
A 2014 San Mateo County Civil Grand Jury report said the district has a history of dysfunction and should be dissolved.
"There is no way to sugar coat the issue. The commission governing the San Mateo County (County) Harbor District (Harbor District or District) is in disarray," the grand jury report said. "In this report the grand jury 's foremost recommendation is dissolution of the Harbor District with its functions assumed by the county. The grand jury believes that due to a lack of oversight, ineffective and inefficient governance and the unwieldy sprawl of the services it provides, the Harbor District has lost the public's trust in its management of the public's money."