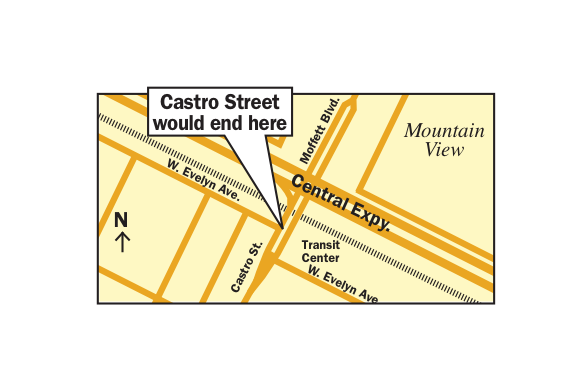 BY ALLISON LEVITSKY
Daily Post Staff Writer
Mountain View officials have advanced plans to close off Castro Street downtown at the Caltrain tracks and possibly create a pedestrian mall along part of the street.
The first two blocks of Castro Street after the tracks could become a pedestrian mall, an idea that has been floated in Palo Alto for part of University Avenue to cries of concern about worsening traffic. Some business owners voiced concerns last year about plans to divert traffic away from downtown, but Mayor Lenny Siegel said he thought having a more pedestrian-friendly downtown would help business.
"I don't think people ever decided to go to a restaurant because they were stuck in traffic and they saw the sign, which is what I think some of the businesses believe," Siegel said. "I think it'll bring more business downtown. When you go to Europe, that's what you expect."
Mountain View council voted unanimously Tuesday (Feb. 13) night to allocate $832,000 to the next steps in the project and sign a nearly $1.6 million contract with the engineering firm Kimley-Horn.
The plans put Mountain View well ahead of Palo Alto and Sunnyvale, with whom Mountain View is vying for funding to separate street-level car and train traffic.
All three cities will need to separate the Caltrain tracks from the city streets they intersect before the tracks are electrified in 2022. Electrification will send more trains up and down the corridor. The cities want money from Measure B, a 30-year, half-cent county-wide sales tax approved by voters for transportation projects in 2016.
"Palo Alto's not going to have any idea what they're doing for a while," Siegel said. "We're hoping to keep the ball rolling there in the hope of getting the money in a timely way, because we want our grade separations ready or nearly ready when Caltrain gets electrified."
The project was first initiated in 2015. Council approved the final plan on May 23 and allocated $1 mil- lion for the project.
The plans are broken up into two phases. In the first phase, Castro Street will be closed to cars, bicycle-pedestrian crossings will be added under the tracks and the Caltrain station platform will be expanded.
A bike track will connect Stevens Creek Trail to the transit center and a vehicle ramp on Evelyn Avenue will connect to Shoreline Boulevard. The second phase will include underground parking, a larger bus facility and a bigger Centennial Plaza. That phase will be completed as public-private partnership between the city, Caltrain and a private developer.
From the archives: Council votes to make Castro St. a dead end, businesses object
Published: June 23, 2016
BY JEN NOWELL
Daily Post Staff Writer
Mountain View City Council voted last night (June 22, 2016) to close Castro Street to through traffic at Central Expressway, despite an outcry from business owners over the uncertainty this would cause to their livelihoods.
The city initially began looking at changes to the end of Castro Street because train service is expected to increase when high-speed rail hits the Peninsula.
Vice Mayor Ken Rosenberg said he is looking at the issue through the lens of safety.
"We have a dangerous intersection," he said. And delaying this decision puts more people at risk, outweighing any business considerations, Rosenberg said.
Council voted 5-2, with councilmen John Inks and John McAlister opposed, to close off the end of Castro Street. Julie Smiley, executive director of the city's Central Business Association, said the city has a vibrant downtown, but cutting an artery to this area would be a detriment to the downtown community.
If the number of customers traveling by car is reduced by the dead end, there won't be enough people who walk and bike to the area to make up the difference, she said.
Impact on business
She requested that council put off its decision until more detailed studies of how the closure will effect downtown businesses are completed. John Akkaya, owner of Ristorante Don Giovanni at 235 Castro St., said his concern is his payroll.
If the city cuts off the main route from Highway 101, he asked how he would afford his payroll.
Sarah Astles, owner of Opal Nightclub at 251 Castro St., said she has personally spoken to many of her neighboring businesses and they are all against a closure.
She asked for more alternatives to be examined and more time for consideration.
Ron Ikebe said closing Castro Street would change the character of the downtown forever.
"But the city can do what it wants, because they always do," he said.
Rosenberg agreed that this move would change the character of the area, but he said it's because it will improve it.
More traffic on Shoreline
Councilman Chris Clark said he already reroutes himself to Shoreline Boulevard to avoid the traffic at the Castro and Moffett Boulevard intersection.
By closing off Castro, the city is helping other people do the same with a ramp down Evelyn Avenue and up to Shoreline, he said.
Now that council has made a decision on Castro, the city will move forward with work to improve the Transit Center as train service increases.
The center serves nearly 4,300 Caltrain riders and 1,300 VTA riders each weekday, according to a city report. And an additional 1,000 daily riders are served by buses and shuttles, the report said.
These figures far exceed the 1,000 riders expected during the "three-hour morning peak period" at the transit center when its final design was approved in 1997.
Ridership is expected to continue to increase, and in the long-term, the California High-Speed Rail Authority is proposing to operate as many as eight trains per hour on the same tracks.
Councilman Mike Kasperzak said this increase in trains will make Castro impassable. Nothing is going to happen for three to five years, he said, giving businesses plenty of time to inform their customers.
Inks and McAlister voted against the closure, with McAlister saying he doesn't see any information from the city about how this or lowering Castro Street beneath the train tracks will effect businesses.